These days, people are making a much more concerted effort to protect the environment. A common behavior is paying attention to the materials in the products they buy to make sure that they are eco-friendly. This means choosing products with packaging that's less harmful to the planet, chemicals that are non-toxic and/or biodegradable, and content that comes directly from recycled waste.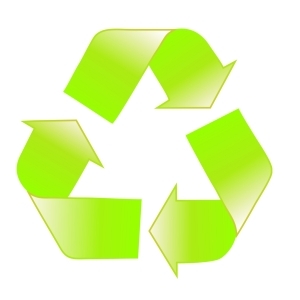 Now, homeowners can take this same approach when choosing what to put on their roof. Here are five examples of "green" roofing materials.
Recyclable products. The simplest (and most cost-effective) way is to select materials that are and/or can be recycled. For instance, clay tiles are fully recyclable, and they exude a Southwestern flair while allowing air pockets to form underneath them to better insulate the home. Metal roofs can be produced from recycled metal, reflect intense heat, and last for a half-century. Even wood shakes are back in style because of their recyclable nature, durability, and rustic look (though they should probably be coated with a fire-resistant stain or sealant).
Solar panels. They're still the most recognizable image of what people think of when they hear the term "green roofing." Roof-mounted solar panels take the energy from sunlight, convert it from DC power to AC power, and distribute it throughout the home as needed. In some cases, the solar panels generate more power than is needed during a given month for the home. While the up-front cost of solar panel installation can be daunting, state and federal tax credits can often make such a system more affordable.
Plant roofs. It may sound weird, but roofs with plants, crops, flowers, and shrubs have been around for centuries; and they're starting to come back into fashion. Not only does rainwater get put to direct use nourishing the flora, but plant roofs also absorb runoff water which otherwise might transport pollutants into storm sewers and/or lakes and rivers. The plant cover and soil also acts as an insulator for the home itself. Depending on the specific greenery used, constructing a plant roof starts at about $10 per square foot.
Wind turbines. This may evoke an image of hundreds of tiny windmills on each shingle of a roof, but that's not how it works. The roofing panels themselves actually contain miniature wind turbines inside them, which capture and utilize the wind that blows over the surface of the roof. Like standard turbines, the wind is converted into electricity; although unlike solar, they usually can't replace municipal electricity as a home's primary power source. But these panels can offset a home's energy usage — which saves money on utility bills and output from fossil fuel-generated power sources.
Cool roofs. Believe it or not, this is the fastest-growing segment in the eco-roofing industry. Think of these specially-made tiles as "metal roofs on steroids;" that is, they're constructed of a white gravel and white glue mixture that serve to reflect the sun's rays and keep the home cool. This, in turn, cuts down on air conditioning usage and the power from fossil fuels needed to cool the home. Sometimes, it's enough to eliminate AC use altogether.
Ready to go green with your new roof? Contact Harry Helmet for a free, no-obligation estimate!
Written by Chris Martin