Can Pressure Washing Damage Your Gutter System?
Highlights:
Pressure washing is safe for your gutters if you're careful.
Prepare the grounds before you start pressure washing by moving patio furniture and covering plants.
Start by cleaning the downspouts first, so that you can get rid of any debris or clogs.
This is the time of year when you start thinking about projects around the house. It's no surprise – it's spring when everything is blooming and beginning to look new, so of course, you want your house to look shiny and new as well. And you don't necessarily need to replace anything on your house to get this look; you just have to clean it. One of the simplest ways to clean your home's exterior parts is to hit them with a pressure washer. But is it safe to use a pressure washer around your gutter system? Look at what you need to know about pressure washing your gutter system.
Is a Pressure Washer Safe for Your Gutters?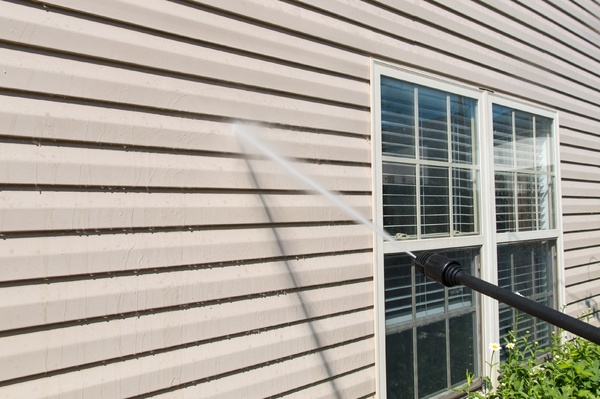 The simple answer is yes; it's safe to clean your home with a pressure washer, even around your gutter system. In fact, you can even clean the gutter system itself with a pressure washer, and it can be an excellent way to get out clogs. 
However, you do have to be careful. You don't want to overdo the pressure. Your gutters should be sturdy, but they aren't going to be as hardy as your walls that might be made out of brick or cement. Start with a lower amount of pressure and be wary of using too much. You'll also need to make sure that you have the right tools, like a gutter wand attachment or an adjustable telescoping wand.
Preparing to Pressure Wash Your Gutters
Before you start washing, make sure that you move all the patio furniture away out of the general vicinity of your home and gutters. You should also try to cover plants and flowers that might be damaged by detergent. If there's vegetation that you can't cover, you should dampen it first because that gives plants at least some protection. 
Before you get started, you should also put on a pair of safety glasses. If you're standing on the ground and spraying up at the gutters, you're going to get hit with water and debris from above, so it's important to protect your face. 
How to Wash Your Gutters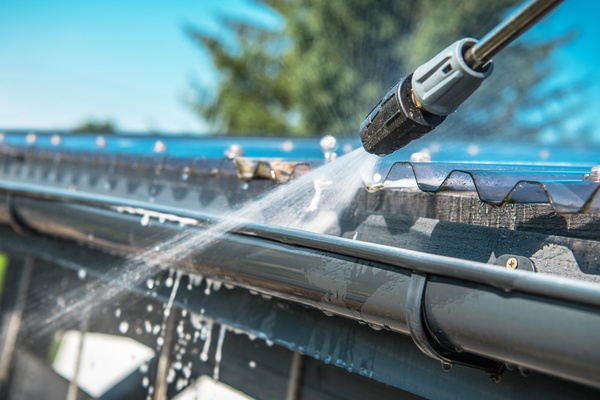 Use your attachment tools so that you can reach the gutters. Spray the areas you're cleaning with water first before adding detergent. 
Start with the downspouts to clear any debris that might be inside of them. Then you can clean the rest of the gutters, and the water inside will run down the downspouts without getting clogged or hung up. After you've rinsed, wash with soap and then rinse again with regular water. Don't forget to clean away debris that might have landed on the ground while you were cleaning. 
If you need help maintaining your gutters or if you're ready to replace or upgrade them, Lednor Home Solutions has been working on homes like yours for more than three decades, and they're ready to help you with yours. Schedule a free estimate