How Much Does It Cost to Replace Gutters in Abington, PA?
Gutters are an important home feature, but like many important features, you may not think much about them while they're working properly. However, if your gutters are damaged, you'll definitely notice a difference. If you're in need of new gutters for your home, you may be looking for information on how much the project will cost.
How Much Does a Gutter Replacement Cost in Abington, PA?
One of the first things that you'll have to decide when you want to install new gutters is what type of material you would like to use. Common gutter materials include vinyl, copper, aluminum, and stainless steel. Each material has a different price point and knowing what each one costs can help you make your decision.
If you live in Abington, PA, vinyl gutters will cost between $4.83 and $5.84 per linear foot. Aluminum gutters have a wider price range—they run from $4.74 to $8.60 per linear foot. Take a closer look at how the costs break down for each of the materials listed.
| | |
| --- | --- |
| Type of Gutter | Cost per Foot |
| Aluminum |  $4.74 – $8.60 |
| Vinyl |  $4.83 – $5.84 |
| Stainless Steel | $8.10 – $8.87 |
| Copper |  $34.03 – $36.37 |
Other Factors That Influence Gutter Replacement Costs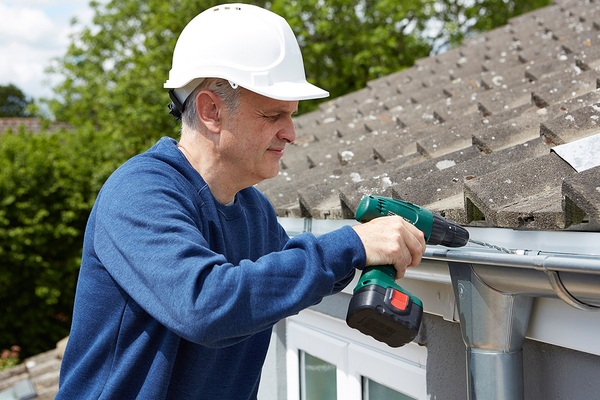 The materials gutters are made of are a big part of the cost, but that isn't the only thing will determine the final price of your gutter replacement project. Below some of the important factors that will influence your gutter replacement costs.
Labor: Labor costs are the costs involved in paying the workers who will install your gutters. The rate of labor in your area factors into the cost of your new gutter system.
Gutter size: Larger or custom-sized gutters, will cost more than standard (five-inch diameter) gutters.
Home size: More house means more roof, and more roof means more gutters. A gutter system for a big house will cost more than a gutter system for a small house.
Layout of roof: It isn't just the size of the roof that you have to take into account, but the design as well. More corners and downspouts mean a more complicated gutter installation.
Debris material removal: Removal of old gutter material is essential but may or may not be included in your estimate. You'll need to ask your contractor whether this service is included in your estimate.
Add-ons: There are several ways you can personalize your gutter system and improve its functionality. Gutter covers and heating systems cost more but can add a lot of value.
Questions to Ask Your Contractor
It's important to ask questions of the contractors you're considering so that you can make an informed decision about the right contractor for your project. Here are some of the questions you should ask:
What factors are included in your estimate? How much will the estimate cost?
Does your company specialize in gutters and gutter replacement?
Can you provide me with a list of local references?
Is your company bonded, insured, and licensed?
What does the warranty cover? How long will the warranty last?
Searching for affordable gutter installation in Abington? Lednor Home Solutions will help you find the right fit for your budget. Learn more.