How Much Does It Cost to Replace Gutters in Annapolis, MD?
If your gutters are getting older, dripping, damaged, or warped, it could be time for a gutter replacement. However, like any home project, replacing the gutters on your Annapolis home can be costly, particularly if you don't understand what's involved in the project.
Choosing the right materials and gutter contractor can help you find an accomplished gutter specialist who will create a gutter replacement that will hold up for many years.
The Cost of Gutter Replacement in Annapolis, MD 
How much will it cost to replace your gutters in Annapolis? While it might seem like there should be a relatively small price range, the reality is that this varies widely depending on what gutter material you choose. Aluminum and vinyl gutters are far more affordable than copper gutters, for instance, and they are moderately less expensive than stainless steel.
Here's what you can expect from your gutter costs:

| | |
| --- | --- |
| Type of Gutter | Cost Per Foot  |
| Aluminum | $4.24 – $7.56 |
| Vinyl | $4.88 – $5.90 |
| Stainless Steel | $8.17 – $8.96 |
| Copper | $31.48 – $35.38 |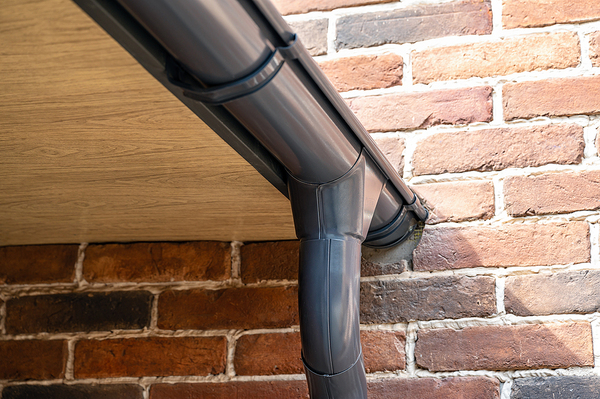 Other Factors That Influence Gutter Cost 
How do gutter estimates actually work? Many factors go into your gutter cost. While the materials used in the gutters are one aspect of the gutter cost, they aren't the only factor that influences the overall cost. Here are a few other factors that you need to consider in your gutter estimate:
The size of your gutters. Higher-capacity 6-inch or larger gutters are more expensive than the standard 5-inch gutters.
The size and shape of your home. A home with multiple levels is harder to work on, as is a home with a lot of corners and downspouts. This can result in more work as contractors move between levels or cut pieces to size.
The cost of labor in your area is something that you can't influence but nonetheless will impact the overall cost of your gutter project.
Debris removal will also be a part of your total project cost. Be sure to ask if this is included in your original estimate. Usually, this costs between $13-$15 for a 25-foot segment.
Other items such as gutter heaters, gutter covers, downspouts, and splash blocks will add to the overall project cost.

Questions to Ask Your Contractor
As you look for estimates for your gutter project, how can you make sure that you're getting the best contractor and the best deal on your gutter project? Ask these questions to help guide your conversations with your gutter contractors.
Is there a cost to the estimate?
Does the estimate include every project cost? Are there other costs such as debris removal that are not included?
How long have you been doing this work?
Do you have local examples or references?
Are you licensed, insured, and bonded?
Does your work have a warranty? What does the warranty involve?
Ask questions like this to ensure that you have chosen an experienced, competent gutter company.
Looking for affordable gutter replacement in Annapolis? Our experts at Lednor Home Solutions can help you calculate the cost. Get started.