How Much Does It Cost to Replace Gutters in Kansas City, MO?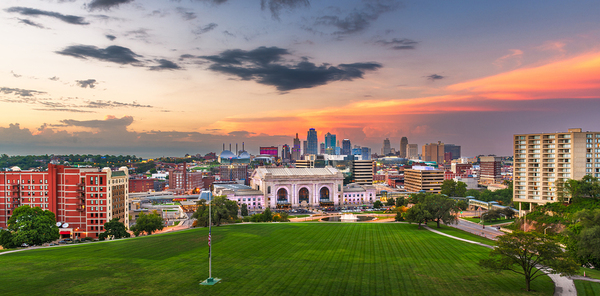 In Kansas City, the average gutter replacement costs between $500 to $2000. Homeowners with an average-sized home can expect to pay in the middle of that range. This is between $3 to $20 per foot of gutter material. Kansas City labor costs are just 4% above the national average.
Is it time to replace your gutters? Over time, gutters can get damaged by wind, rain, and branches that hit or get stuck in the gutters. Gutters that are damaged more easily accumulate debris, leading to backups of water and water that overflows from the roof onto the ground. Over time, water that cascades from your gutters is not just annoying, but it can lead to landscaping damage and shifting foundations under your home. When it's time to replace your gutters with a new gutter installation, how much will that installation cost?
Factors That Affect Cost
Why do gutter costs vary so much between different gutter installation projects? There are many factors that impact the cost of your gutter project. These include:
The material that you choose, such as vinyl gutters versus the more expensive copper gutters
The style of your roof (A complex roof will usually cost more than a simple one.)
The number of levels in your home (The more climbing around that the installers need to do, the higher the price.)
The number of corners and downspouts (More complexity makes the cost go up.)
The cost of labor (The amount that your contractor pays employees will influence the installation costs.)
Choosing Your Gutter Material
The material you choose for your gutters matters. Aluminum and vinyl gutters are lightweight and less expensive. Stainless steel is heavy and durable. Copper is often used on historic homes and is a beautiful, but expensive, gutter choice.
The costs of gutter materials vary a lot, and the materials cost will be a substantial part of your project.

Installation costs will also vary, and you need to make sure that you understand the full scope of different costs. These can include:
The cost of labor. A 50-foot section could cost about $2,200 to complete. However, this depends on the number of levels and the complexity and pitch of the roof.
Gutter drainage design. This can cost up to $160.
Disposal of the old gutters. Add another $100 here.
The cost of other materials will also add to your total cost. These include:
The cost of downspouts, which can run between $5 to $7 for aluminum, $9.50 to $10 for steel, and $5 to $8 for vinyl.
Splash blocks are often around $11 each.
Hangers depend on the type of gutter you get, and the number of hangers you need will vary according to the materials used in the rest of your gutter project. Hanger hardware runs between a few dollars to hundreds of dollars, depending on the type of brackets you use.
Roof flashing costs between $10 and $20 for a 10-foot area.
Questions to Ask Your Gutter Contractor
When you are getting a gutter installation estimate, what do you need to know to get the right quote for your gutter project? You need to know what is involved in your quote and what might be considered an extra. Ask your gutter contractor:
Does the company specialize in gutter repair and replacement? This will both provide you with reassurance and let you know that they understand the process of providing an accurate gutter estimate.
Do they provide free estimates?
Are they licensed and bonded?
Does the quote include the dismantling and removal of the old gutters and the removal and disposal of debris?
Is there a warranty for both materials and installation, so that you can rest assured that your gutter project will be covered, even if something goes wrong?
At Lednor Home Solutions, we're committed to ensuring that your home renovation project goes as planned. Talk with us today about the benefits of working with an experienced gutter and roofing contractor to manage your new gutter installation and replacement.
Looking for affordable gutter replacement in Kansas City? Our experts at Lednor Home Solutions can help you calculate the cost. Get started.