Highlights:
Keeping debris out of gutters is important.
Gutter sponges are inexpensive and convenient gutter guards.
However, gutter sponges also have serious problems that Lednor Home Solutions' gutter guards don't have.
---
You don't want your gutters to get clogged up. It's not just an aesthetic thing – your gutters might look better when they're not clogged, but that's only part of it. Clogged gutters that become too heavy or are left alone too long can damage the gutter system and roof. And the rain backing up over the gutters can damage your home and your landscaping.
But cleaning out the gutters has its problems too. For one thing, gutter cleaning is dangerous and time-consuming. And paying to have them cleaned can get expensive. Luckily, there are some alternatives to regular gutter cleaning. For example, gutter sponges, which you may also see called gutter foam, claim to be an excellent way to keep water flowing freely through your gutters without cleaning, but are they really? Take a look at some things you should know about gutter sponges.
How They Work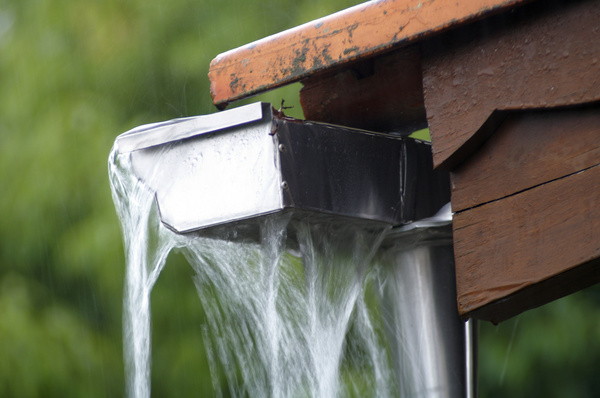 Gutter sponges fit inside of the gutters, and they're meant to leave no room for debris to collect. The water is supposed to run through pores in the sponges, then head to the downspouts and splash pads where it belongs.
People choose gutter sponges for a couple of reasons. First, if they're researching gutter guard options, there's a good chance that gutter sponges or gutter foam will come up as one of the least expensive options. They're also a DIY option, so if you don't mind doing some climbing and gutter work – you just don't want to have to do it as often as the gutters need to be cleaned – they can seem like a good option and preferable to paying for something more expensive.
However, gutter sponges aren't as effective as one might hope. The foam swells up with water, much like a sponge would when it's soaked in water, and this creates some problems that wouldn't exist without the foam.
Where Gutter Sponges Fail
Unfortunately, gutter sponges are not all that they're cracked up to be. They have a couple of serious problems that make them a problematic choice.
They don't last that long – a few years at most.
They can fill up with water like regular sponges – this can cause them to become trapped in the gutter. Then dirt and seeds trapped in the foam can result in actual growing vegetation in your gutter.
They can rot and grow mold. Wet foam sitting in your gutters? No surprise that they eventually rot and grow mold.
They're difficult to clean – not only are they difficult to clean while they're in the gutter, but it can also be challenging to clean them out of the gutter.
CHOOSING THE RIGHT GUTTER SPONGE
If you're going to go with a gutter sponge despite the drawbacks, you at least need to know what to look for to get the most out of the product. Take a look at some of the things you need to know when you shop for gutter sponges.
Ease of Installation

 – One of the big selling points of foam gutter guards is that they're simple to install. You shouldn't need a professional to do the job or require a high level of gutter knowledge to do it yourself. Gutter sponges should be easy for anyone relatively comfortable with DIY home repair. 

Foam Quality

– Not all foams are created equally. You want a higher-quality foam that's less likely to crumble and break down during installation or soon after.

Durability

 – Gutter sponges simply won't last as long as many other types of gutter guards. But some foams will last longer than others. This is another reason to go with a brand that uses high-quality materials – the foam will last longer and stand up to the elements more effectively.

UV Protection

 – Choose a gutter sponge that includes UV protection. The sun's heat will dry out the foam in time, causing it to crumble, but with good UV protection, it will last longer.

Maintenance

 – Gutter sponges are not completely maintenance-free. You won't have to clean your gutters as often as you did without them. However, you'll still need to do it periodically. While you're there, it's important to check on the condition of the gutter sponges and remove any debris that's stuck in them. Maintenance will be an easier chore if the gutter sponges are easy to remove and re-install. 

Cost and Warranty Options

 – Cost is obviously an important consideration for any home repair. You don't want to base your decision solely on cost – the cheapest option is not necessarily the best. However, you don't want to overpay, either. Compare costs and features so that you're able to make a decision that gives you the best features for as low a price as you can manage. While you're doing this, check out the warranty options as well. Obviously, the longer a company will stand behind its product, the better the product is likely to be. 
A BETTER ALTERNATIVE
Gutter guards like those made by Lednor Home Solutions are a better alternative. They provide a cover that debris can't get into, allowing the water to flow freely through your gutters without impediment. And unlike sponges, they won't rot or need to be replaced every few years. Once you've installed gutter guards, you won't have to clean your gutters anymore, and you definitely won't have to clean your gutter guard out of your gutters.  Schedule a free estimate.