Grabbing Tiger (Stripes) By the Tail; Exterior Gutter Cleaning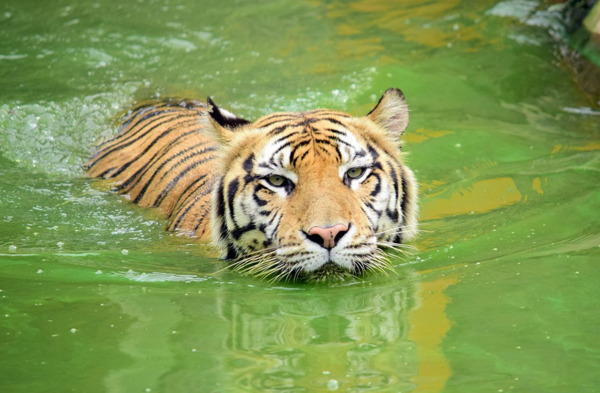 When choosing the decor of your home, strategically placed striped patterns can be very attractive. Incorporating stripes into your wallpaper, curtains, or bed linens can provide a nice accent to a room. Even a striped retractable awning can beautify your home's exterior while providing much needed shade in the summer.
But the one place you do not want to see stripes is on your home's gutters.
What Are Tiger Stripes?
These dark, vertical streaks which are commonly found on the outsides of gutters are known as tiger stripes. Unlike some dirty areas of your home, tiger stripes tend to draw the eye toward the problem because they usually contrast sharply with the dark-shingled roof and lighter-colored siding.
Contrary to what some people believe, tiger stripes are not formed as the result of a failure of the paint or coating on gutters themselves. Rather, they are a consequence of the buildup of dirt, grime, and pollution on the top lip of the gutter. When you don't have a gutter cover and your gutters are full of debris, this substance trickles down the outside of the gutter. Over time, rain can exacerbate the accumulation of oxides by forming the long, ugly streaks that cannot easily be washed off by precipitation or even the help of a garden hose. If gutters have tiger stripes, it's necessary to do some serious gutter cleaning to remove them.
Gutter Cleaning: A Solution for Tiger Stripes
Tiger stripes are more problematic in some areas than others depending on the amount of tree sap, insecticide, chimney fumes, or industrial pollution in a given location. To get rid of tiger stripes and prevent them from building up again, you should clean the outsides of your gutters at least once annually. Many people simply perform this chore whenever they scoop out debris from inside their gutters two or three times a year. Alternatively, you can avoid the problem in the first place by adding a gutter cover to your home, sending debris off the edge of the gutter instead of allowing it to accumulate in the gutter.
Gutter Cleaning: How to Remove Tiger Stripes
When cleaning tiger stripes off your gutters, use a non-abrasive household detergent cleaner. There are also numerous products available at home improvement and hardware stores which are specifically designed to clean gutters. Some of the brand names include Gutter Magic No. 9, Gutter Brite, Streak Getter, Krud Kutter, and Gutter Zap Cleaner.
It's possible that you might encounter tiger stripes which are comprised of tougher stains. In this case, use a heavy-duty cleaning product such as SC Johnson Fantastik All Purpose Cleaner. If you haven't addressed your tiger stripes in quite some time, it may be necessary to repeat the cleaning process over some length of time.
In some climates, the tiger stripes may be partially comprised of mildew. If this is the case, you can create a cleaning solution made up of one part laundry detergent, two parts trisodium phosphate, 12 parts Clorox Ultra Bleach, and 36 parts water. Just be sure to wear gloves, eye protection, and suitable clothing when preparing this solution and be sure to rinse your gutters thoroughly after cleaning.
Products to Avoid While Gutter Cleaning
No matter how pesky the tiger stripes may be, it is not recommended that you use a cleaner that consists of solvents, ammonia, paint removers, or abrasive particles. These substances can remove or soften the finish on aluminum gutters. You should also refrain from cleaning your gutters with a hard or metal brush. A soft brush, rag, or cloth is all that is needed, and be wary of too much vigorous rubbing lest glossy areas be created over the satin finish. A wand or other extension may be used to wipe your gutters from the ground (and don't forget to check the inside edge for tiger stripes, too!); but if you want to use a ladder, take extreme caution to stabilize it and not lean too far away from the base trying to reach a spot on your gutters.
As a homeowner, you work hard to keep the outside of your home in tiptop shape. So there's no reason to let unsightly tiger stripes tarnish the appearance and curb appeal of your residence.
Long Term Solutions for Tiger Stripes
If you're tired of cleaning your gutters and you find that they consistently have problems such as tiger stripes, consider a gutter cover. Gutter covers send water into your gutters, while debris lands on the ground. With a gutter cover, you'll no longer have damaging material creeping down the outside of your gutters.
At Lednor Home Solutions, we're gutter replacement and gutter cover experts. With over three decades of experience, we're ready to apply that expertise to your home. Contact us to see how our gutter covers work today.