Half-Round Gutters vs. K-Style Gutters: Which Should You Choose?
Are your gutters giving you grief? If so, a gutter renovation could be around the corner, so that you no longer need to worry about leaky, damaged gutters.
When you're considering gutter installation for your home, you have a lot of decisions to make. These decisions will not only help your gutters accommodate the flow of water from the roof to the ground, but they will also make your life easier or more challenging as you navigate ongoing gutter maintenance. What is the difference between the K-style and half round gutters, and what should you choose for your home?
What Are K-Style Gutters?
According to Do It Yourself, "K-style gutters mimic the colonial style crown molding and fit well into modern homes." They work well on angled roofs, and these roofs are popular in modern US homes. This is the reason why the majority of US homes have K-style gutters. They provide a finished and almost fancy look on the exterior of your home.
These gutters are flat on one side, so they attach more directly to the fascia than other half round gutters. Some people choose to install these gutters on their own. In this case, you can generally purchase K-style gutters in different pre-cut sizes.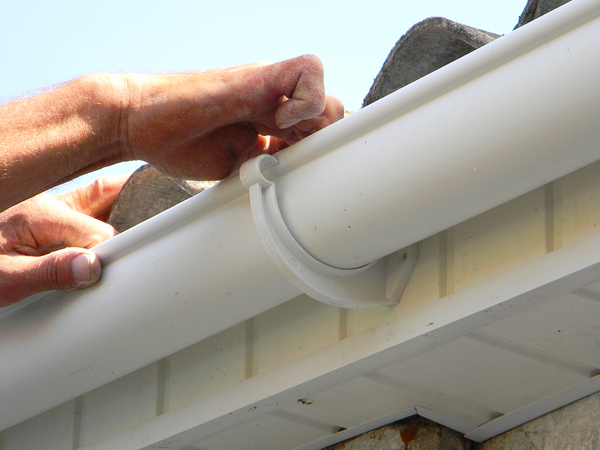 What Are Half-Round Gutters?
Homes that have a rounded roofline or homes with roofs that have a metal roof are more likely to use half-round gutters. This is particularly true for homes built before the 1950s. If you're embarking on a home restoration project and you want your home to look both beautiful and historically accurate, you may choose half-round gutters.
These gutters are more complex to install than K-style gutters because they require more brackets and do not fit flat along the edge of the roof. The brackets can be somewhat more expensive than those used for the K-style gutters.
However, the benefits of half-round gutters include:
Clean lines that mesh well with rounder roof shapes
Ease of cleaning, since they are a simple tube
Less corrosion and other gutter problems, since they don't have a lot of nooks and crannies where debris can gather
Considerations When Installing Gutters
No matter what gutters you choose, there are a few tips that will help you have a more successful gutter installation:
Installing seamless gutters is more expensive and involves a gutter company. However, because your gutters do not have seams, it's less likely that they will leak over time. In the long run, this can improve the longevity and performance of your gutters. Seamless gutters are also easier to maintain because there are no seams to capture debris.
Consider adding a gutter cover to your gutters. Gutter covers can be very effective ways to reduce the maintenance of your gutters. A cover such as Gutter Helmet sends the leaves off the edge of the gutter, keeping only water in the gutter itself. This allows your gutters to last longer as well since they are not filled with rotting debris.
Are you looking for an estimate for your gutter replacement or gutter cover project? If so, connect with us at Lednor Home Solutions. We'll help you learn more about your gutters so that you can make the best decision for your home.  Schedule a free estimate today.