How Many Different Types of Awnings Does Harry Helmet Offer?
Are you looking to improve the exterior appearance of your home by adding a colorful accent? Is there an area which could use a little more shade or cover during certain times of the year? Then you should consider investing in an awning from Harry Helmet.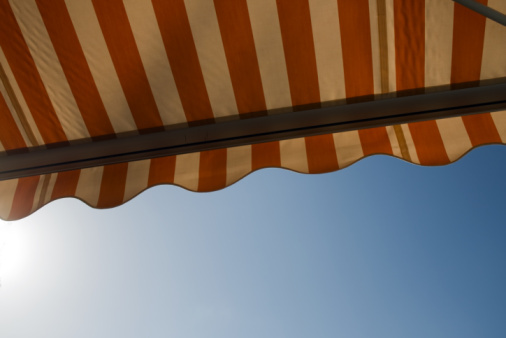 These beautiful, functional awnings provide shade during the warmer months, as well as shelter from light rain when necessary. Awnings serve to increase your outdoor living space while protecting your exterior furniture from the sun's harmful UV rays. And since the awnings are easily retractable, they can help keep the inside of your home warmer or cooler by letting you control the amount of sunlight that streams through your windows (which lets you save money on utility bills, too).
Best of all, there are numerous different styles of awnings from which to choose. Which begs the question: how many choices are there?
Lots of Stripe Colors and Patterns
Well, let's start by looking at the colors and patterns that are available in Harry Helmet awnings. For instance, there are 21 different styles of green stripes alone to pick from. If you prefer blue stripes, you have 13 choices in that category. Or you can select from half a dozen patterns that display red stripes, eight more which feature gray stripes, and 16 brown striped-options. That's a total of 64 different awnings right there.
But what if you don't really like stripes? No worries; there are five different examples of block patterns that are also offered by Harry Helmet. And if you just want a simple solid colored-awning, they've got you covered. In addition to the aforementioned colors, you can pick out an awning in colors such as white, beige, or orange. Altogether, there are 41 solid colors of awning fabric available.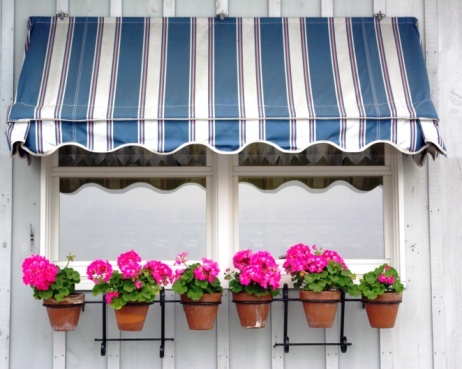 Adding up these numbers now brings us to 110 different looks for your new awning. But wait: you're not finished yet!
Many Styles of Valance
Harry Helmet also has five different valance styles to select from. In layman's terms, valances make up the shape of the front edge of each awning. You can opt for a high wave, low wave, Russian key, straight with binding, or straight with hem style for your awning. Since any fabric style can be paired with any valance style, if we multiply 110 by five, we get 550 different possible combinations!
Manual or Motorized?
And that's not all. Even though all Harry Helmet awnings are retractable, you can either select a manual "crank" system (which can be easily operated by almost any adult), or a motorized system which operates via remote control at the touch of a button. Since those 550 awning types can either be motorized or manual, we're now up to 1,100 unique awning possibilities!
Built to Fit Your Home
Finally, there's the question of size. Here's the great thing about awnings from Harry Helmet: they can be cut and configured to conform to any specific size to fit the area you have. In other words, you aren't limited to a handful of size categories. Given this reality, there is literally… an infinite number of different awnings that Harry Helmet can provide to its customers!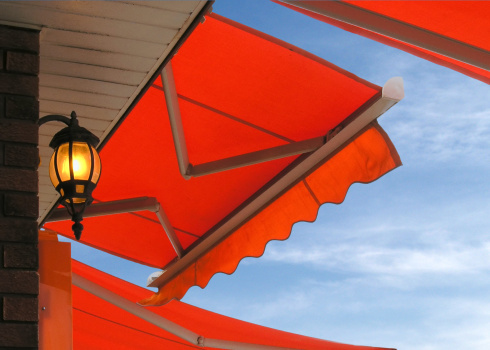 Since the possibilities really are endless, why not contact Harry Helmet today to see about a high-quality, attractive awning for your home? You can visit the Harry Helmet website or call 1-800-947-4056 to set up an appointment for an experienced awning designer to come to your home. Before you know it, you could be enjoying a new awning that's tailored to your unique preferences and desires!
Written by Del Thebaud
Surefire Social Baseline
Average rating:
0 reviews