How Often Should Springfield, MO Homeowners Clean Gutters?
Homeowners know that certain home maintenance projects are not just necessary because they want their place to look nice or because they want to be thorough but because they need to do them to protect their investment. Gutter cleaning is like that. If the gutters get clogged, they can overflow and cause water damage, they can sag and pull down roof tiles, and they can even fill up with dried dead leaves and become a fire hazard. Clogged gutters pose all sorts of dangers to the home, so keeping them clean is paramount. But how often do they need to be cleaned?
At Least Twice a Year

Different sources will suggest different frequencies for how often a homeowner should clean their gutters, but there seems to be a consensus that no matter what, homeowners should expect to clean their gutters at least twice a year. That's a minimum, and homeowners shouldn't be surprised to find that for their situation, more cleaning is better.
The two times of year that homeowners should expect to have to clean their gutters are spring and late fall. In many locations, gutter cleaning isn't possible in the middle of winter, so the fall cleaning prepares the gutters for those winter months, and the spring cleaning, after everything has thawed, gets rid of anything that's built up over the winter months.
Homeowners may need to add additional cleanings for any number of reasons. Homes that are surrounded by trees may need cleanings more often than homes without trees nearby. After a serious storm, when debris is liable to be blown into the gutters, people will likely need gutter cleaning, though they may not need it during a calm season.
How Gutters Are Cleaned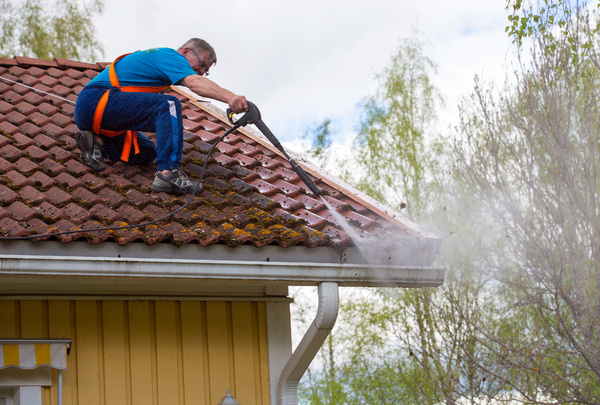 There are several ways to clean gutters, but it's worth pointing out that all of them require either paying money, taking risks, using up a lot of time and effort, or some combination of these. No wonder many homeowners aren't in a hurry to do it.
Cleaning gutters the traditional way means climbing up on the roof to dig filth and blockages out of the gutters with a tool like a spade. This is not a fun job, and it can be a very dangerous job as well – anything that requires a person to be on the roof comes with danger. Homeowners that can't or don't want to risk it themselves can pay someone else to do it, but when you're paying someone to take a risk, it gets expensive. There are also ways to clean the gutters from the ground if you have the right attachments for your pressure washer, wet/dry vac, or hose, but that requires having the tools and time to do the job.
How to Get Away Without Cleaning Gutters
Can you just avoid the whole gutter cleaning thing entirely? Without risking damage to your house? Actually, yes – there is a way. With the right gutter guard installed, only water will be able to enter your gutters, and other debris will be kept out. That means stormwater will flow through the gutters, and they'll never clog because nothing will enter the gutter system to cause those clogs.
Lednor Home Solution's Gutter Helmet system keeps everything but the water out of your gutters, and the design also prevents debris from piling up on top of the gutters, so you should never have to deal with any type of clog. Gutter Helmet is also safe to install over your existing gutters without voiding your roof's warranty.
Want to eliminate gutter cleaning? Spend your time relaxing instead of climbing a ladder with Lednor Home Solutions. Buy gutter guards in Springfield.