Ice in Your Gutters? How to thaw them Out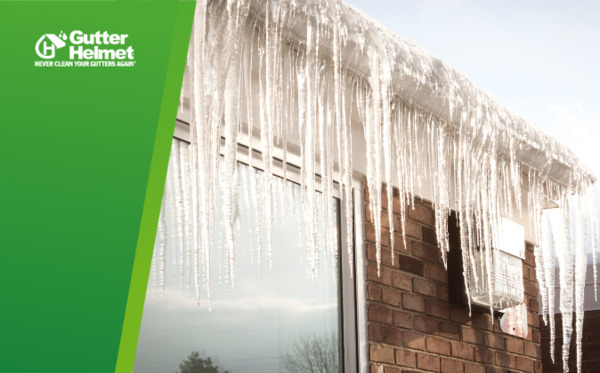 Winter storms are no fun for your gutters, but if you've had them cleaned out and made sure they're clog-free before the bad weather got underway, you should be fine, right? Not always. Even clean. clog-free gutter are susceptible to ice forming in your gutter system.
This happens when the snow on the roof begins to melt, usually during the day at the peak of the sun's heat. Before that water can drain away, it gets colder, and the melted snow freezes again, forming ice. This can cause all sorts of problems for your gutters. The heaviness of the ice can cause your gutters to bend or even disconnect from the roof, which can harm your roof as well.
Since the ice won't allow drainage through the gutter system properly, water can run down the sides of the home, causing more ice and water damage. Learn how to thaw out your gutters before the ice causes damage.
The Stocking Method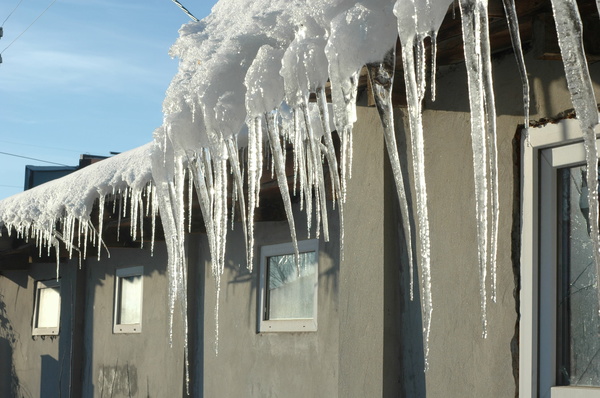 Melting snow by placing a stocking filled with calcium chloride on top of the gutters is a well-known method of thawing icy gutters. If you live in an area where icy gutters are a common problem, chances are that one of your friends or neighbors swears by this method.
Calcium chloride is the same chemical that's sprinkled onto icy roads to melt them so that you can drive safely. However, when it comes to your gutters, you don't want to put the chemical directly on the gutters. That's because calcium chloride can lead to corrosion in aluminum gutters, and it can stain your roof's shingles as well. When you fill a stocking or sock with the chemical and put it on top of the gutter, the less direct method of contact helps protect your home. You'll need to fill enough stockings to line the length of the gutter, though.
The Hot Water Method
A fast way to get rid of ice is to pour hot water on it. Have you ever thrown an ice cube in the sink and turned on the hot water faucet? It probably melted pretty quickly! A large block of ice won't dissipate as fast as a single cube of ice, but it's still one of the fastest strategies and is effective as well. Plus, there's no chance of water harming your gutter system – water is what your gutter system is supposed to have in it.
However, this requires you to climb up to the area where the ice is with hot water at the ready, which can be difficult and dangerous. And if the ice block is large, it's even harder to get enough water to the area while keeping it hot enough to melt the ice. Water, icy conditions, and a ladder are a potentially dangerous combination, so don't try this method unless you take safety precautions and you're certain you're up to the job.
Prevention Strategies
The best way to keep ice out of your gutters is to prevent it from happening in the first place. One way to do that is by making sure your gutters are clean before you start getting winter storms. Clumps of dead leaves and other debris in the gutter system, even if they aren't enough to clog the gutters by themselves, are more likely to freeze up under the right conditions.
Another way to go is installing a gutter heater. This is a heating element that warms up snow and ice before it can form into a frozen block of ice that you have to figure out how to deal with. If you live in an area with low temperatures and lots of snow in the winter, this is a good investment as it can save you the time and expense of a lot of repairs over the years.
If you're looking for a gutter heating system or you need help with your gutter system, Lednor Home Solutions is there to help you. After 30 years working on gutters and roofs, they know what helps homeowners like you protect their gutters. Contact Lednor Home Solutions to schedule a free estimate today.