Managing Water Flow on a Steep Roof
The angle of your roof is known as the pitch. Some roofs have a low pitch, which means that they're closer to being flat. A roof with a high pitch is steeper. Both types of roofs have their own benefits and challenges, but when you have a steep roof, you need to pay particular attention to managing the flow of rainwater and snow on your roof. Take a look at a few things that you should know about how you can ensure that your roof and property are protected from water damage.
Advantages and Disadvantages of a Steep Roof
The good news is that a steep roof definitely has some advantages. You get more room for an attic, which means more storage space and better ventilation inside of your home. Steep roofs also tend to be more effective in shedding water – the rain can't pool on a roof with a high pitch; it will just roll off the side, allowing the roof to dry faster. That means less chance that mold and mildew will grow and a longer lifespan for your roof. These roofs also shed snow more effectively. Since heavy snow buildup can seriously damage your roof, this is also an advantage.
Problems With a Steep Roof
On the other hand, steep roofs can be hard on your gutters. Leaves and other debris that are blown onto your roof won't stay there either – they'll be pushed into your gutters with the rain or snow. The combination of debris and water or snow rushing into your gutters can overwhelm your gutter system and lead to clogs and leaks. If your gutters become saggy and warped, the only option could be a gutter replacement. How can you avoid this problem?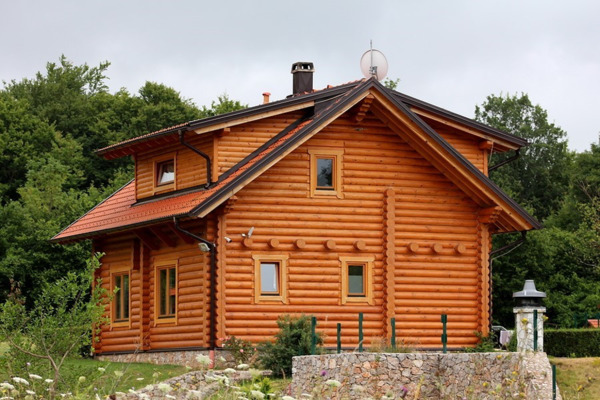 Avoid Gutter Replacement: Prevent Clogged Gutters
There are a few things that you can do to prevent gutter clogs. For one thing, when installing new gutters, you need to make sure that they're large enough to accommodate the amount of rain and snow that may flow or be blown into them. The higher the pitch, the wider your gutters need to be.
When determining the size of your gutters, you also need to take the rainfall intensity in your area into account – the more intense the rainfall, the more your gutters need to be able to handle. The US Weather Bureau keeps statistics on rainfall intensity in various areas. Adjusting your gutter size and position to account for both roof pitch and rainfall intensity can be a delicate balancing act – if you're not up to figuring out the correct sizes and positioning, you're better off hiring a professional to do the installation instead of handling it yourself.
Gutter Covers Can Protect Existing Gutters
What about gutters that are already in place? Even if your gutters are perfectly sized and positioned correctly, you could still have problems with clogs from debris blown on to your roof. The best way to deal with this is to have a gutter guard installed on your existing gutter system. These guards block solid items, like leaves and sticks, from falling into your gutters, while still allowing rain and snow to enter the gutters. That way, there's nothing in your gutter system to cause clogs.
Do you have a steep roof? We can help. Talk with us at Lednor Home Solutions to start your seamless gutter replacement project today.