Should You Mount a Basketball Backboard to Your Roof?
Autumn is finally here, and you know what that means: fall colors, cooler temperatures, the holiday season, National Ergonomics Month, and basketball!
Hoops fans love watching games both in person and on TV. Many of them will watch any type of basketball – NBA, college, high school, women's, elementary school, whatever. And some of them like to imagine themselves scoring the winning bucket in the biggest game of the year – without leaving their driveway.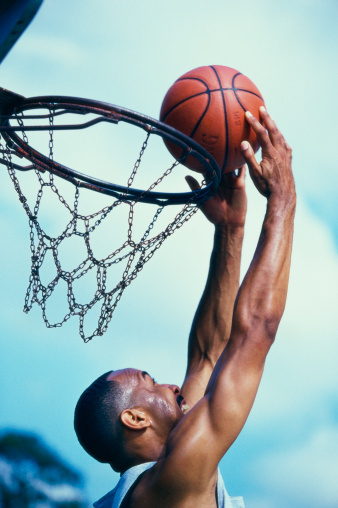 Score!!!
For these folks, a home basketball goal may be ideal. But what are some of the issues involved with putting one up?
Pole or No Pole?
The first decision you must make whether the basket and backboard will be freestanding or mounted. It's recommended that you check with your neighborhood association or municipality to see if either type of arrangement is prohibited (which would make your choice an easy one). If you have the option, you should ask yourself these questions:
Will a tall a pole block vehicle access in the driveway?
Does the rim height need to be adjustable to accommodate children of various age groups?
Do you want to simply shoot baskets, or would you rather have a court on which to play pickup games?
Is the noise of the bouncing ball going to be an issue for you or your neighbors?
On what part of your driveway is the surface the flattest? (You should place your basketball goal there.)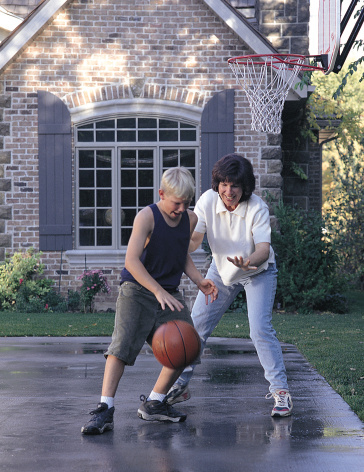 Two for one: family bonding and life lessons in competition!
Where Will You Put It?

If you feel that a permanently-mounted basketball goal works best for your needs, the next step is to determine precisely where on your property it will go. The most common spot is above the garage doors so that the driveway can be used as a makeshift court. But the goal can also be placed on the side of a house facing the driveway, the side of a second-story deck or balcony, or a freestanding carport or shed. If there are multiple options on your property, start by asking yourself where errant shots may be likely to end up. Locations near windows, gutters, neighboring properties, gardens, or other vulnerable areas may be less preferable.

Mounting Tips

Now comes the challenging part: how to mount the basketball goal so that it withstands everything that is thrown at it. Here are some suggestions:


Read the installation instructions carefully before lifting any tools. The last thing you want is to have to undo some work because you didn't know what was supposed to come next.
If mounting on a roof, locate one of the roof studs (using a stud finder if necessary). Attach the mounting bracket of the backboard to one of those studs.
Use a pencil or marker to mark the holes into which you will drill the bolts into the studs.
Apply liberal amounts of roof cement in the holes in order to prevent leaks when rainwater falls on the roof.
Measure the height of the rim from the ground before you permanently affix the backboard to the roof.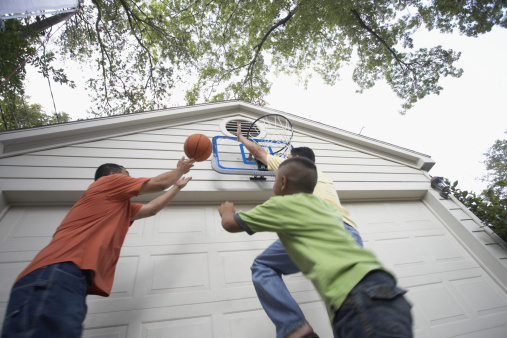 Fun for all!
And one last thing: if you put up a basketball goal of any kind at your house, be prepared to become one of the more popular homeowners on the block – especially if there are kids (or even adults) who love basketball as much as you do. Because you may just have frequent visitors who BYOB (Bring Your Own Basketball) and start shooting around. Such is the burden of a basketball lover with his/her own basketball hoop!
Written by Del Thebaud