The 5 Best DIY Gutter Installation Videos
The Internet has made life better for a variety of different pursuits, and home improvement is no exception. Now, do-it-yourselfers can get help from online videos when they want to know how to complete a project themselves and avoid paying someone else to do it.
If your DIY list includes installing and/or replacing gutters, here are five videos on the web which will aid you in your endeavors.

This video from DoItBest may be the most comprehensive gutter installation demonstration on the Web. Its information runs the gamut from the purpose and importance of properly-functioning gutters to the different gutter types, specs, and materials. And not only does it encompass downspout installation, but also reveals how to put up gutters on a slanted fascia by using shims. It even presents full lists of supplies needed to get the job done right, while offering suggestions on how to avoid the common pitfalls of gutter installation.
Storyteller Media claims to produce documentaries on everything from nature to animals to monsters. But it also puts out a series of DIY videos that are succinct and helpful, like this one for installing gutters. Unlike many other videos, this one displays the process of removing the old gutters. Plus, it also shows how to attach an entirely new fascia board to old rafters — including paring the rafters to fit and scraping off old paint. It's less than four minutes long, but is packed with helpful tips on how to complete the job efficiently and correctly.
The popular DIY Network produced this short video on the basics of gutter installation as part of its Disaster House program. It's the only one featured here that promotes the value of seamless gutters while showing how a seamless gutter machine works and discussing how to incorporate them into a do-it-yourself installation. The host also mentions the benefits, drawbacks, and costs of various guttering materials. He even demonstrates how to hang gutters using just one person instead of two or more — for DIY folks who don't need any assistance with their projects.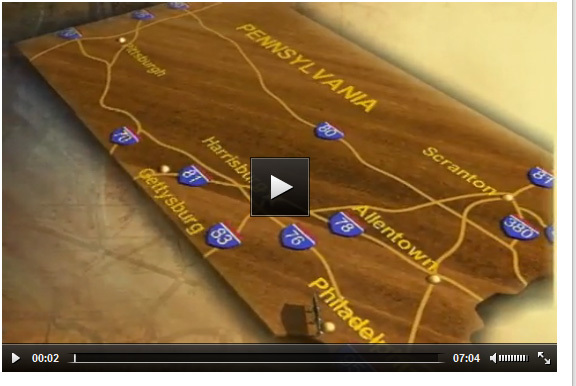 This video is displayed on RonHazelton.com, a site which is dedicated to providing online assistance for numerous kinds of home improvement projects. This is important because the page also displays a step-by-step image guide to complement the video. Hazelton helps a couple put up new gutters on their farm home by noting exact measurements, discussing downspout installation, revealing how to snap a proper chalk line, and showing how to use a small level on the chalk line string itself. He also instructs viewers on how to use seamers to connect gutter sections together correctly.
Finally, this how-to video concentrates on replacing a short guttering section on the front of a home. While standing on makeshift "scaffolding" supported by two ladders, the host teaches the finer points of the job as the homeowner asks questions along the way. The instructor showcases certain details, like fastening rivets into gutter sections, using crimpers to attach elbow sections, and drilling downspout holes. The unique aspect to this video is its additional focus on adding a downspout extender and digging a trench in the yard to accommodate it.