The Hottest Trends in Roofing
As a homeowner, you may keep up with the most current fashions in interior design. You may also know about changes in ergonomic design in areas like the kitchen and bathroom. And if you have a green thumb, you may also follow what's up-to-date in the world of landscaping.
But you may not even be aware of the trends in the roofing industry (or even that such trends exist). So if you'll be needing a roof replacement in the near future, you may want to see what's hot in 2014.

Lighter Colors
For example, maybe you're tired with having to look at your drab, dark roof all the time. Here's some good news: light-colored roofs are emerging as a very popular style. Many roof shingles are being produced in shades of soft greens, warm blues, and even neutral colors like taupe, beige and off white. In other words, you can add just a hint of color to your roof without turning it into a garish eyesore.
Concrete Roofs
Another frequently-used material on home roofs today is concrete. No, it's not like the colorless concrete you see on schools and industrial buildings. Concrete tiles resemble traditional composite shingles but are much sturdier, heavier, and more durable and waterproof. If you live in an area that's prone to violent storms, concrete roofing tiles are a very viable option.
Curves, Arches, and Gambels
Some homeowners who want to think outside the architectural box are turning to roof additions in curved or arched shapes. Others are opting for a gambrel shape, which consists of one soft slope and one steep slope on each side (like an A-frame with a bend in the middle) and are often seen in Dutch Colonial homes. In addition to how visually-appealing they are, these unique shapes produce attractive angles, utilize all shingle types, and create opportunities for attractive trim and gutter choices.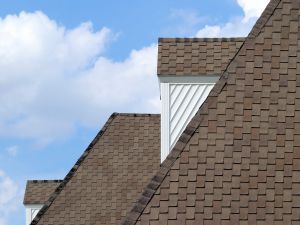 Energy Conservation
If you're a homeowner who wants to conserve energy, you may want to take a different approach to your roof. Solar panels are becoming more popular in all climates, largely because of the accompanying tax credits and the sharp decrease in utility bills associated with them. But one of the fastest-growing segments in the roofing industry is the category known as the "cool roof." These metal tiles are coated with a white glue and gravel mixture that reflect the sun's rays to help keep homes cooler in the summer, thus reducing the need for air conditioning.
Ultra-Green Roofs
Finally, homeowners who embrace an eco-friendly mindset have several alternatives available as well. Instead of petroleum-based composite or asphalt shingles, environmentally-conscious folks may opt for wood shakes or clay tiles which are made from recyclable materials (and can be recycled after use on a roof). For those with a big budget, specially-made roofing tiles with tiny wind turbines in them can harness the power of the wind much like their solar panel counterparts do with the sun (without having to build a tall turbine atop the home). Finally, some extreme "green" homeowners are even turning to "plant roofs," or those consisting of soil, grasses, and shrubs or flowers. That way, runoff water can nourish the flora instead of running off and getting contaminated as it passes into sewer systems or water sources.
Find an Expert in Your Roofing Option
Whatever roofing option you select, make sure you select a roofing contractor that's well-versed in installing the type of roof that you want. Some companies will say they can do the job, but you should check their references or past projects to see how successful they were with using your chosen materials or working with your chosen architectural style. That way, you're much more likely to wind up with a roof that is as durable as it is fashionable.
Written by Chris Martin