Which Gutter Guards Work Best in Snow and Ice?
It may look like a winter wonderland outside, but snow loads and ice dams do not a merry winter make. If you and your home feel the stress of winter on your roof every year, it's time to consider what kinds of gutter guards and ice removal systems would work well for your home.
Why Remove Snow and Ice?
A snow-covered home is beautiful; why would you need to remove all of that snow and ice, anyway? Unfortunately, despite the beauty of a home and garden in the winter, snow and ice can cause a lot of damage to your home. While modern buildings are designed to maintain a relatively high snow load, if you have a lot of wet, heavy snow on your roof, the most serious problem that could happen is roof collapse. Every home is different, so you need to get to know your own and recognize when it's time for some rooftop snow removal.
On a less dramatic but also damaging note, snow and ice that accumulate on your roof can also lead to ice dams. These happen when ice backs up in the gutter and water backs up behind the ice. It's never a good idea to have water sitting on your roof. According to The Spruce, "inside the home, the dripping water can damage the interior ceiling and wall surfaces. Additionally, the sheer weight of ice dams may damage the roof overhangs and gutters." Over time, if water sneaks underneath your roofing, it leads to problems in your attic and home insulation.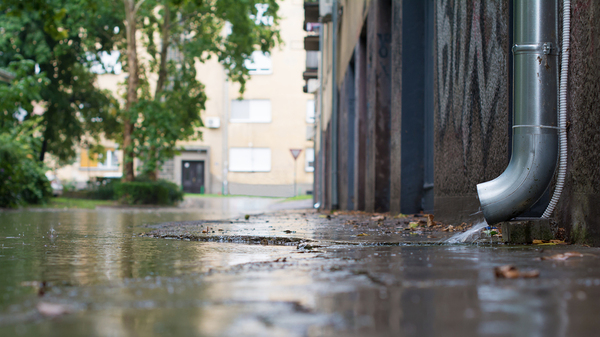 Gutter Guards Can Be An Ally
If you live in a cold and snowy area, it's in your best interest to make sure that anything that goes on your roof helps to fulfill your goal of a roof that's free of damaging snow and ice. In the winter months, gutter guards help maintain clog-free gutters. They allow you to move into winter with clean, clear gutters, allowing any snow and ice that start to accumulate to run off once they melt. They also strengthen your gutter system, preventing it from damage due to the weight of the ice. Most importantly, gutter guards can work in tandem with a gutter heating system. If you notice that your gutters and gutter guard are accumulating icicles, it may be time to install a gutter heating system so that this doesn't happen again.
Installing Gutter Heat
A gutter heating system like Helmet Heat works for you during the winter months, preventing your home from experiencing problems due to the ice and snow. It keeps water in its liquid form rather than allowing it to freeze in the gutters and create ice dams. This allows the snow that lands on your roof to melt gradually, working its way down your gutters and toward the ground, even when it's cold outside.
Get ready to face the winter with gutter guards from Lednor Home Solutions. With our gutter guards and Helmet Heat gutter heating system, you'll feel much more secure when winter arrives. Talk with us today to schedule a free estimate.