4 Roofing Tips to Ensure Smooth Guttering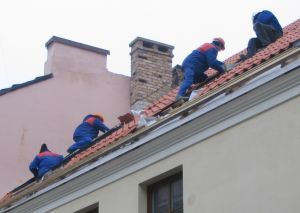 So you've decided to get your roof repaired or replaced. Hopefully, you've done your homework regarding your choice of a roofing contractor, its reputation, and the material the company will be using. But you don't want to concentrate so much on your roof that you neglect to watch out for its possible effects on other aspects of your home — like, say, your gutters.
Here are four ways to make sure that your guttering will work just as well after the roofing contractor departs as it did before the job got underway.
1. Make sure ladders and other equipment aren't damaging your gutters.
Whatever the scope of your roofing project, your wallet will take an even bigger hit if the roofing contractors force you to spend even more money repairing gutters that they damage or break during the course of their work. (Some contractors might even have enough nerve to offer to fix them for you — for an additional cost, of course). So be sure to monitor your roofers' progress, and in doing so, check to see that ladders, bucket truck extensions, or vehicles aren't resting up against your gutters. The additional force can be enough to make your gutter bend, sag, or loosen. A reputable roofing company knows how to get to and from your roof without damaging your gutters in the process.
2. Make sure that the roof's slope doesn't channel water behind your gutters.
When finishing the roof to its edge, the roofing material should extend about 3/4 of an inch over your gutters. If it stops at the roof edge, rainwater may trickle down off the roof and squeeze behind your gutters. This can cause rotting fascia boards or leaks into your attic or home's interior, and can also weaken the place where gutters attach to your roof. In addition, water will drip or run down right next to your foundation, which is exactly where you don't want it to be. One solution would be to install a drip edge, which is a curved sheet metal product. The flat edge slips under the shingles, while the curved edge fits down over the back edge of your gutters.
3. Make sure that the roof's slope doesn't channel water over your gutters.
Sometimes, roofers can change the slope of your roof so that it is too steep to allow rainwater to run into your gutters. Or your roof's valleys may channel the increased water flow past your gutters. In these cases, the runoff water pours over your gutters and onto the ground, thus bypassing the guttering completely. If this occurs, one of the easiest ways to solve the problem is to install a gutter baffle (also called a deflector) on your gutters. This is basically a piece of six-inch by 24-inch metal that is fastened to the outer edge of the gutter. It is designed to act as a "backboard" for fast-rushing water that comes off a roof, so that the runoff splashes back into the gutters instead of onto the ground below.
4. Make sure that a new metal roof still allows runoff water to flow into your gutters.
There may be some advantages to putting a metal roof on your home. But one of the dangers of doing so is the possibility of increasing the speed of the runoff water coming into your gutters. Because metal is less absorbent than roofing shingles — and provides a flatter surface to facilitate water flow — the pace of runoff water from a metal roof may increase enough to pour over your gutters and onto the ground (just like when a roof is pitched too sharply). Sometimes, this issue won't become apparent in storms with low to moderate rainfall, but will be problematic during heavy downpours. Again, gutter baffles might do the trick; but you may have to install them along most or all of your gutters.