5 Great Choices in Green Roofs, Gutters
Many homeowners are trying to reduce their carbon footprint and protect the planet as much as they can. This may involve recycling household waste, using green cleaning and lawn treatment products, and disposing of harmful chemicals and substances safely.
But these people may not be aware of how their roofing or gutter choices can help or harm the environment. So here are five ways that homeowners can "go green" with their roofs and gutters.
1. Coated Metal Roofs
Asphalt shingles are not very environmentally-friendly because they are petroleum-based products; when they degrade and get washed off of the roof, the particulates can pollute the soil and groundwater. Conversely, metal roofs do not deteriorate, but can last as long as the house is standing. Plus, metal reflects heat instead of absorbing it like shingles do; this is why they are often referred to as "cool roofs."
Now, there's a coated steel roofing product that resembles the appearance of granite. It can even be laid over existing asphalt shingles, thus eliminating the need to dispose of the shingles in a landfill. This coated steel roofing is lighter than asphalt and never requires any maintenance whatsoever. In the event of a storm or a fallen tree which does cause roof damage, the metal is completely recyclable. This roofing option is especially attractive in regions with lots of snowfall because the steel handles the heavier loads better than asphalt does.
2. Clay Tiling
On the other hand, clay tiles are ideal for homes which are subjected to extreme heat. Consumers may not know that clay tiles are 100 percent recyclable, so they are considered to be a green roofing product. Not only is clay tiling durable, but it also reflects the heat much like metal roofing does. Plus, clay serves as a strong insulator against both heat and cold because it allows air to circulate above and below the tiles, thus creating a cushion of air and boosting its insulation capability.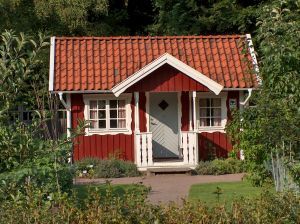 3. Wood shingles
After declining in popularity for quite some time, wood shingles are enjoying a slight resurgence largely because of their eco-friendly makeup. Wood-shingled roofs are built to last as long as 15 to 20 years; and when it is finally time for roof replacement, the shingles can be recycled by grinding them into wood chips. Homes and buildings in the New England region are often topped with wood shingles.
4. Horticultural roofs
Could you grow grass, plants, and flowers on top of your home? You bet. While rarely seen in the U.S., horticultural roofs can be found in many rural regions of Europe. After laying a solid foundation of well-sealed roofing material, anywhere from 3 to 24 inches of soil is put down on the roof. Mosses, grasses, shrubs, hedges, and even crops or small trees can be grown in this soil.
Not surprisingly, horticultural roofs are expensive to install and maintain, and they tend to work best on roofs with little or no pitch. However, a homeowner can realize energy savings in the long term while reducing storm runoff.
5. Anything but PVC gutters
The great thing about gutters is that almost any material that is typically used in gutters is recyclable and therefore green. But there's one notable exception: polyvinyl chloride piping. Environmental groups claim that when PVC is manufactured and/or burned, carcinogenic dioxins are released into the air that can harm the health of humans and animals. PVC is also brittle and tends to crack or break over time; and PVC gutters don't handle heavy snow loads as well as their metal counterparts.