5 Roofing and Gutter Lessons We Learned from Sandy
Prior to October of 2012, the majority of Americans living in the northeast really had no concept of the power of hurricanes. That's because outside of beach and coastal areas, most residents had never experienced the devastation of a superstorm. But in late October, Sandy taught this region a lot of new lessons about what a superstorm can do.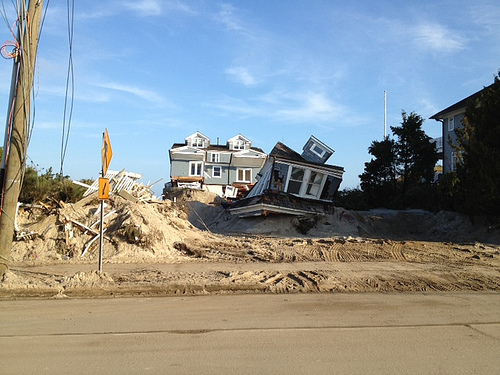 Many of these lessons revolved around the damage that can be done to a home's gutters and roofs. As a result, homeowners in the northeast now have a better idea of how to prepare should they ever find themselves in the path of another Sandy-type storm. Here are five of these lessons that were learned (by some, the hard way).
1. Your gutters are not going to survive a direct hit from a superstorm. No matter what precautions you take, your guttering system is almost always going to malfunction and/or be destroyed if the home is in the superstorm's direct path. Wind gusts of 100 miles per hour and inch-per-hour (or greater) rainfall amounts are simply too much for the typical gutter to handle. So given that you'll probably have a finite amount of time to make preparations, you should spend that time trying to secure or save other parts of your home and property.
2. You should secure your gutters as best you can. If your home will only take an indirect hit, your gutters may be able to survive intact. But this won't happen unless each section of guttering is fastened securely to your roofline and exterior walls. So be sure to check all of your gutter hangers or fasteners before the storm arrives, and replace or reinforce them if necessary.
3. You should clean out your gutters before the superstorm. Don't assume that the winds and rain will force all of the debris out of your gutters for you. If leaves, pine needles, and twigs are blocking the flow of runoff water in your gutters and downspouts, the heavy rain will overflow the gutters, cause flooding around your home, and even seep into your foundation. So take a couple of hours to clean your gutters in advance of the superstorm.
4. You should direct your downspouts far away from your home. If your gutters channel water to your downspouts perfectly, but your downspouts just pour it back onto the ground next to your foundation, then your gutter system won't do you any good. So the hours before a storm approaches might be a good time to install downspout extenders to direct the runoff water into a street or alley — or at least far away from the base of your home.
5. Falling debris can do just as much (if not more) damage than wind and rain can. All it takes is one tree branch or flying object to knock your gutters loose, and then you'll have to deal with the same problems that you would have had the gutter system malfunctioned on its own. So bring in and/or secure patio furniture, bicycles, and outdoor toys and objects, and pare back overhanging limbs from your roofline.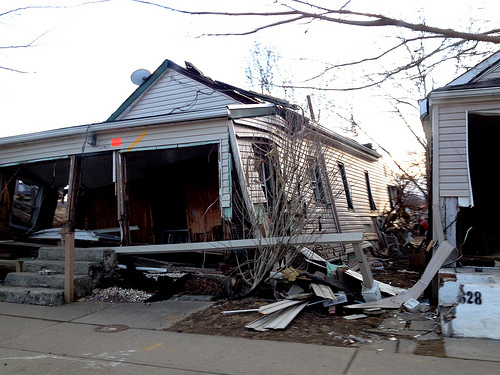 Photo credits: Western Area Power Admin, spleeness