5 Signs That Your Basement Is at Risk for Flooding
Having a basement can be a great asset. It can either function as well-needed storage and/or a laundry area, or it can be finished into an additional leisure space for your family. But basements are no fun at all when they flood.
Is your basement at risk for flooding? Here are five telltale signs:
1. Water pooling near your home's foundation. The most common source of basement flooding is from water pooling on the ground near the home. This standing water tends to form when outdoor faucets leak, gutters overflow during a rainstorm, downspouts direct the water in the wrong direction, or holes or pits form in landscaping near the home. The fixes are relatively simple: fix your spigots, clean out your gutters (or install a gutter protection system), extended or reposition your downspouts, or level off landscaping. Otherwise, the standing water is more likely to find its way into your basement.
2. Improperly sloped ground near your home. If the earth surrounding your home is flat (or worse, it's sloping toward your foundation), then any water that falls from the sky or roof will run toward your home instead of away from it. When this happens, it can seep into your foundation and flood your basement. That's why it's important to ensure that the ground slopes downward away from your home on all sides. Ideally, it should slope for at least six feet away from the home's foundation. Also, make sure that sidewalks, decks, and driveways aren't settling over time and allowing water to flow toward your home.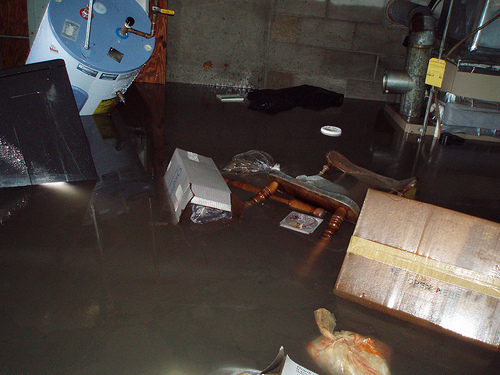 3. Reverse-sloping driveways. Some high-density neighborhoods have homes with driveways that are slanted downward toward the home so that the cars can be parked in a garage that is lower than the main floor. Although such homes are usually designed with catch basins that drain runoff water into the storm sewer, these can often become overloaded during a heavy rainstorm — causing the water to flow into a basement. The first step is to make sure these catch basins are free of debris and are functioning properly. But if you're still having problems, consider installing a backwater valve in the catch basin to prevent this from happening.
4. Cracks in foundation and basement walls. Simply put, cracks in concrete walls or foundations can act as channels through which water can flow into your basement in what's known as infiltration flooding. So be vigilant about sealing wall cracks with caulk to keep water out of your basement; you can even coat the walls of an unfinished basement with a sealant. Be sure to repair any cracks you see in your foundation, even if it means digging up the earth a little bit. In extreme cases, you may need to call a contractor to reach foundation cracks or even … gulp … fix the foundation itself – which can cost tens of thousands of dollars.
5. Plumbing that backs up frequently. If you notice that plumbing backup problems are becoming common in your home, there's a good chance that some of that water may end up in your basement. If there is a blockage in your system or in the pipe that connects your plumbing to your municipal water supply, water can flow back through your basement drains and onto the floor. If you can't repair the problem with drain cleaners or plumbing snakes, contacting a professional plumber might be necessary.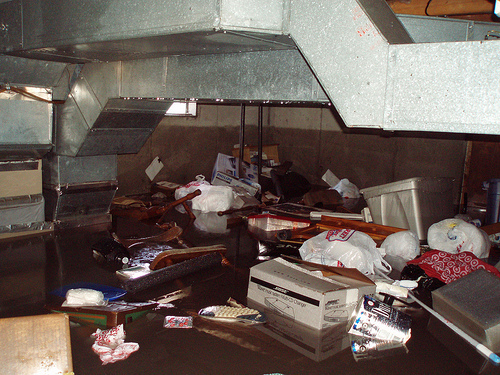 Photo credits: Massachusetts Dept. of Environmental Protection