5 Ways to Prepare Your Gutter for the Next Superstorm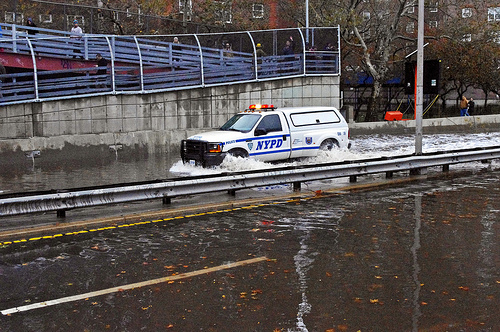 Superstorm Sandy took many homeowners by surprise. Even though people all across the eastern seaboard were warned well in advance of Sandy's arrival, many of them weren't properly prepared for the damage and the mayhem that Sandy's wind and rain (and in some cases snow) caused. The result was billions of dollars in damages and a lengthy recovery process for millions of people.
One of the most common issues that homeowners faced in the aftermath of Sandy was broken gutters. Many residents didn't do enough to secure and preserve their guttering systems before Sandy arrived. Should you ever find yourself in the path of another superstorm, here are five measures you should take to get your gutters ready.
1. Examine the screws, hangers, and other fasteners that keep your gutters and downspouts attached to your home. If your gutters move a great deal when you try to wiggle them, the fasteners probably need to be reinforced or replaced. Your downspouts may require an additional metal clip to attach them to the side of your home if they are loose.
2. Inspect the exterior of your downspouts and gutters. If you see any cracks, holes, or other openings, these will need to be fixed in order for runoff water to be channeled to the proper place. Use a waterproof sealant or caulk to seal these gaps tightly.
3. Look over the seams where your gutter sections attach to each other and to the downspouts. If they are starting to separate, these will be the weakest links in your entire guttering system because they will be susceptible to wind damage and/or buckling or separation from heavy rainfall. So reattach these gutter sections tightly and seal them with caulk. If a section, connector, or downspout is rusted, broken, or severely cracked, replace it with new materials.
4. Thoroughly clean any debris out of your gutters. Twigs, pine needles, and leaves can form clogs that will cause excessive runoff water to overflow the sides of your gutters during a severe storm. After cleaning out your gutters and downspouts, take a hose and run water through them to ensure that there are no blockages.
5. Finally, take whatever precautions you can to keep your gutters safe from wind or falling debris. That means standing on your roof or a ladder and paring back any tree limbs that overhang your roof (try to create a "buffer" of at least three feet between your roofline and any tree branches). Also, check for loose or buckling siding or shingles that could separate in strong winds and affect your gutters; then make these repairs before the superstorm hits. Make sure that the areas around your downspouts are clear and properly sloped to direct runoff water away from your foundation. Finally, secure any loose items like umbrellas, trash cans, grills, potted plants, patio furniture, and toys so they aren't picked up by wind and propelled into your gutters or downspouts.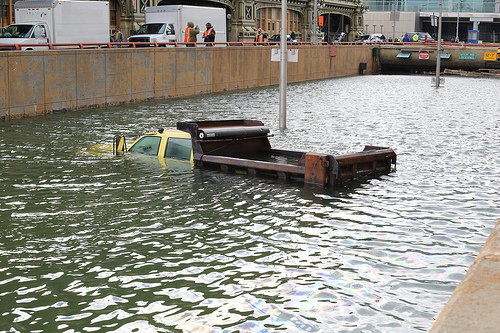 Thankfully, superstorms like Sandy are rare. Nevertheless, it is wise to know how to get your gutters ready in order to reduce the odds of having to replace or repair your entire gutter system.
Photo credits: david_shankbone, WarmSleepy