8 Exterior Home Improvements You Can Make In Cold Weather
As a homeowner, you know that maintaining your castle is a constant endeavor. You realize that you cannot shirk your home improvement responsibilities simply because the outdoor temperatures are low. Or perhaps you're one of those DIY lovers who get cabin fever easily during the winter and is dying to find something to do during the most frigid months of the year.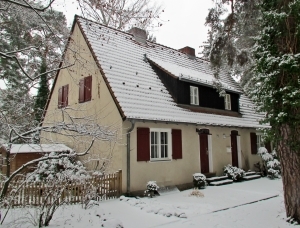 In either case, there are some exterior home improvements that you can undertake when the weather gets cold. Here are eight of them:
Clean your gutters. Whenever there is precipitation and/or falling debris onto your roof, your gutters have the potential to get filled up. This can create clogs which prohibit rain and melted ice or snow from running to your downspouts. Removing this debris can help prevent the formation of icicles, ice dams, and icy patches below your roofline.
Install heating cables. There are plenty of self-regulating heating cables that can be purchased at hardware or home improvement stores. Running these cables either in your gutters or below your first few rows of shingles can facilitate snow and ice melt and avoid dealing with ice dams.
Repair driveway and sidewalk cracks. If you don't address the fissures in your sidewalk and driveway, winter weather can make them worse. So get some concrete filler or Portland cement and seal them up tightly– before they turn into uneven buckles that can become a safety hazard.
Seal gaps and cracks around your home. Holes can form in your foundation and walls around your pipes, so these should be sealed with caulk. Also, look for openings near your windows and doors where warm air may escape, and use weatherstripping or sealant to fill them.

Touch up your paint. Though not an ideal time for major paint jobs, winter months can be opportunities for touching up paint on siding, trim, and other places. Just make sure the temperature is above 35 degrees and that the surfaces are free of moisture from frost.
Remove snow from windows. In addition to shoveling snow in your yard and driveway, you should remove snow that may accumulate on windowsills, basement stairwells, walls, and other places where snowmelt could potentially leak into your home and cause damage.
Prune stalks and trim trees. Dead branches and limbs could fall on your home (or family), and dead stalks can inhibit new plant growth. So get out the pruners or saw and remove the dead wood and flora from your property.
Perform winter landscaping. You can do some yard work in the wintertime. Add some compost to the existing soil so it will be ready come spring. You can also aerate your lawn and place mulch in your flowerbeds or around the bases of your trees.
Obviously, you probably shouldn't undertake exterior home improvements in sub-zero temperatures. But on less chilly days, performing these chores will keep you fit, get you out of the house, and help you stay warm– without the bugs, humidity, and other issues that plague warm-weather home improvements. In short, you don't have to let Old Man Winter keep you from improving the exterior of your home.
Written by Chris Martin