8 Gutter Protection Strategies for Homeowners
They may not look like much, but your gutters represent an invaluable part of your home's maintenance system. These gutters serve to channel all of the rainwater (as well as melted snow and ice) to your downspouts, where it can be directed away from your home. Without a properly-functioning guttering system, the water would likely drop to the ground next to your home, which over time could beget a flooded basement, deteriorated landscaping, or even a compromised foundation.
So it's wise for every homeowner to devise a plan for protecting his or her gutters from damage so that they operate to their maximum capability. Here are eight strategies which can be integrated into this gutter protection plan:
Conduct periodic visual inspections. You don't necessarily have to get up on a ladder. Just walk underneath your guttering run (perhaps with some binoculars, if you have a second story) and examine every foot closely for rust spots, holes, cracks, or separating sections. Do this once every month or two.
Check your hanger and screws. In addition to the gutters themselves, look at every hanger and screw to make sure that they are fastened and secured adequately. If they aren't, tighten or replace them.
Clean out your gutters. Experts recommend doing this at least two times per year. Scoop out the debris yourself by hand, use a vacuum or hose to remove it, or hire someone else to do it.
Test the water flow. Each time you clean your gutters, run a garden hose up into the gutter and turn on the water to make sure it is flowing where it is supposed to. If your gutters are sagging or improperly sloped, the water may begin pooling or spilling over in some places.
Keep an eye on your fascia boards. These are the sections of wood on the edge of your roof to which the gutters attach. If they start to rot, crumble, or pull away from your home, have them replaced by a professional (or buy some wood and do it yourself). Even the most well-maintained gutters won't perform well if they're fastened to deteriorating fascia boards.
Watch out for ladders. There comes a time when you have to work on your roof or around your home — like, say, when you clean your gutters. During such times, make sure that any ladders you use are not leaning up against the gutters (especially aluminum guttering). The added stress can dent, buckle, or otherwise damage your gutters and disrupt the path of the runoff water flow.
Trim trees. At least once a year, grab your ladder and pare back any tree limbs or branches that may be hanging over your roofline. Not only do they drop debris into your gutters, but a sudden storm or lightning strike could send them crashing down atop your gutters. Aim for at least three feet of clearance from your roofline.
Buy a gutter protection system. Gutter Helmet protects your gutters from leaves, pine needles, animal nests, and other debris that can get washed into gutters. Since the debris never gets into the gutter channel, clogs will not form — meaning that you'll never have to clean your gutters again! Contact Harry Helmet for more information on this option, as well as a free, on-site estimate.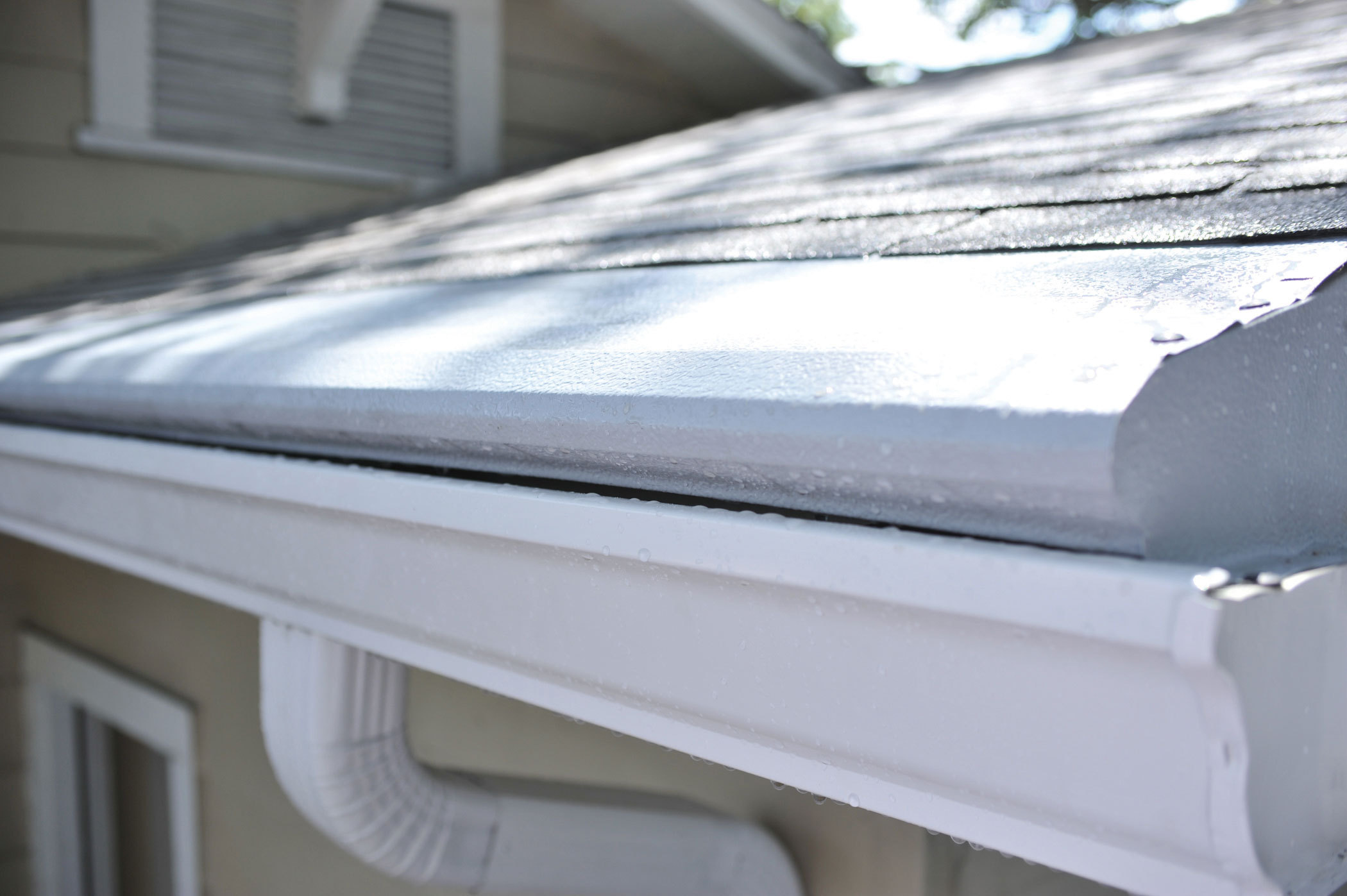 Written by Chris Martin