8 Non-Traditional Uses for Gutters
It's true: necessity is the mother of invention. That's why earth's inhabitants invented gutters centuries ago: to direct (and gather) runoff water from rainstorms. Today, modern gutters channel this water away from a home's foundation.
But there's no written rule that says invention and ingenuity can't mix. Or that rain gutters can't be used for functions other than moving water. Here are eight suggestions for nontraditional uses of gutters. Can you come up with any others?
1. Gutter shelves.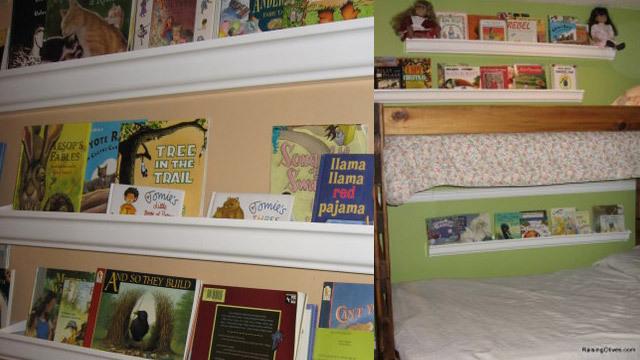 Shelves and shelving units can cost a bundle at a furniture or home store. So why not take a few sections of guttering and mount them to a wall, over a sink, or inside a cabinet? Their shape makes them ideal for storing cleaning supplies, displaying knickknacks, or even supporting drying dishes.
2. Gutter cable holders.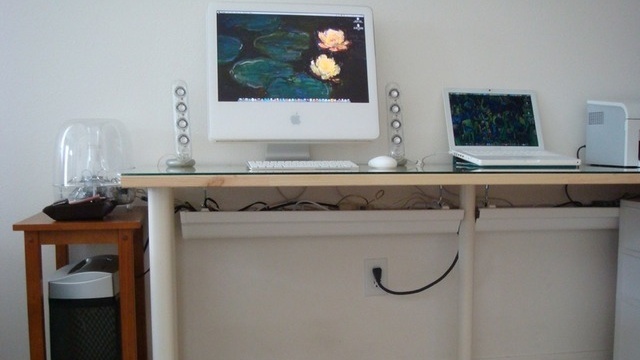 No one likes a spaghetti hodgepodge of power cords and cables underneath a desk. And binding them together with straps or plastic ties is unhelpful when you want to trace a cord to a machine. A great solution is to mount a perfectly-sized, strategically-placed gutter section under the desk in which all wires can rest neatly.
3. Gutter boat races.
Think of it as the "soapbox racer derby on water." Youngsters build balsa wood boats and then set them in a long, horizontal, water-filled gutter section. These DIY watercraft are powered by the builder blowing air into the boat's sails all the way to the finish line. May the best boat win!
4. Gutter sundaes.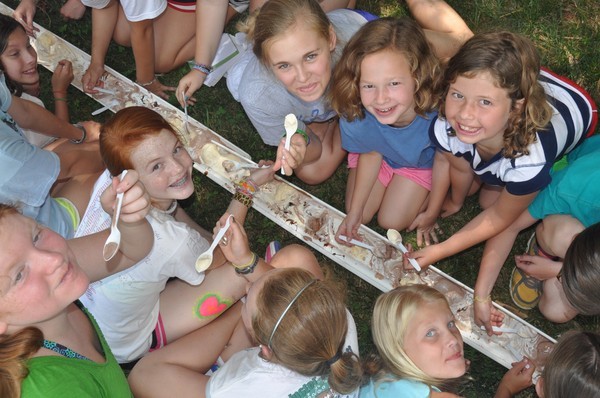 How do you feed dozens of people delicious ice cream sundaes at one time? Take two five-foot gutter sections with endcaps, clean them thoroughly, line them with foil, and dump ice cream and all the toppings into them. This summer camp in North Carolina did just that — and it was a big hit with the campers!
5. Rocking chairs.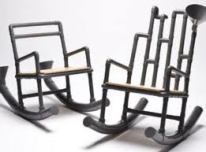 As previously stated, furniture can cost a fortune. That's why some people build their own out of wood, metal… or even gutters! All it takes is several gutter sections cut to exact measurements and affixed together into whatever piece of furniture you need. For example, add a wicker seat and you've got a gutter rocking chair!
6. Building art.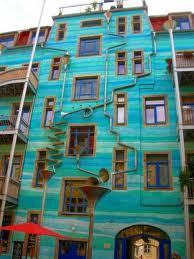 Gutters as art? Why not? The owner of this building in Europe decided to use the structure's façade as a canvas onto which numerous gutters were strategically placed. This colorfully-painted display is not only eye-catching; it's functional, too. (It even supposedly plays music when water runs through the gutters!)
7. Gutter gardens.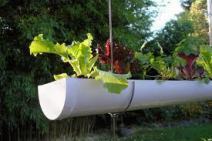 This gardening approach is becoming more and more popular as residents of apartments and other urban dwellings try to maintain gardens and greenery without the benefit of a yard. Whether hung from a balcony chain or mounted to a wall, individuals with green thumbs can fill the gutters with soil and grow herbs, flowers, plants, and produce.
8. Skateboard rails.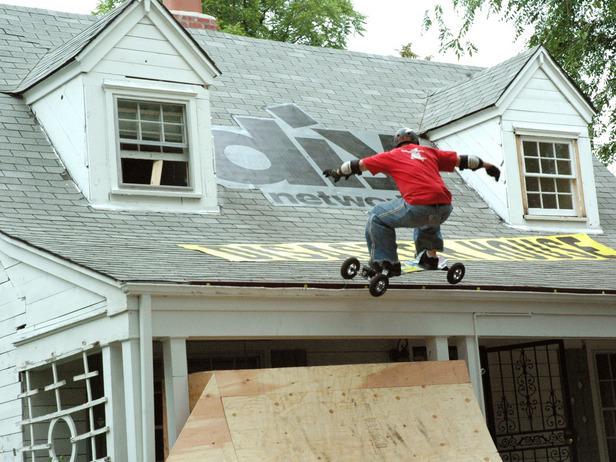 You've seen videos of skateboards skating on metal handrails. But can they do the same on gutters? The Do-It-Yourself Network accepted the challenge of building gutter skateboard rails, and this brave dude gave them a test run. Happy landings!
Photo credits: bronsonjohnsoneaves.wordpress.com, lifehacker.com, boyslife.org, camppage.com, diynetwork.com