8 Sneaky Ways That Heat Is Leaving Your Home
During the winter months, you try to do whatever you can to keep your home warm for your family. But heat is a bit like a prison inmate: if he gets a chance, he'll find a way to sneak out of the fortress that is your home.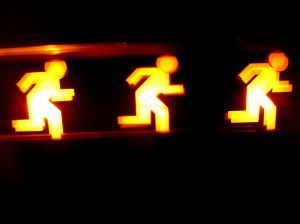 Look! There he goes!
Unfortunately, there are plenty of small openings through which this heat can leak out — and this can translate into higher energy costs for you. (In fact, a gap of just an eighth of an inch near a three-foot wide door or window allows the same amount of air to pass through as a 2.4-inch diameter hole in your wall!)
Here are several potential exit points for heat in your home — and how to seal them up.
1. Holes in your attic. You know those areas where pipes, vents, and ducts run from your attic through your ceiling and/or through your roof? There may be gaps around these pipes that allow warm air to escape. Seal these with a foam spray or caulk.
2. Stairs leading to your attic. It's easy to forget the pull-down stairs that provide access to your attic. Of course, you can't seal up that opening completely, but you can weatherstrip the edges and insulate the top side of the attic hatch.
3. Recessed plumbing, lighting, and wiring in your ceiling. Even if your attic is well-insulted, heat can still seep out through the seams of lighting fixtures, wiring, or plumbing. Use a special high-temperature caulk to seal up these areas.
4. Doors and windows. These areas are often the biggest source of heat loss in a home. So be sure to caulk and weatherstrip all of the potential gaps around windows and doors where heat can sneak out. (Helpful hint: If you place a dollar bill on the weatherstripping and close the door or window, and the bill doesn't fall out, the portal is properly sealed.)
5. The damper on your fireplace. Your chimney can act as a wind tunnel to allow heat to flow out of your home if your damper is not adequately sealed or properly attached. If you close the flue and light a match or scrap of paper, and the smoke still flows up the flue, you've got a leak.
6. Window air-conditioning units. Ideally, you should remove all window AC units during the winter so that the opening is sealed completely. If this is not possible, be sure to caulk the seams around the unit liberally in order to prevent heat loss through the window.
7. Electrical outlets. The areas around a light-switch or power outlet may seem small, but remember that you have a lot of these panels in your home. So it's wise to invest in foam gaskets to put in around these sockets to keep the warm air inside your home's rooms instead of behind the walls.
8. Basement openings. Like your attic, heat can flee your home through openings where vents, laundry ducts, windows, or pipes lead outside. Windows should be caulked or weatherstripped, and expanding foam should be used on other gaps to seal these holes.