What You Need to Know About Your Columbus Gutters
Most people don't think much about the gutters on their house, but selection of gutters and gutter covers can make a significant difference in quality of life, and can prevent safety hazards, particularly in climates with snowy Midwest winters, like Columbus. Aluminum and copper are popular materials for Columbus gutters, with copper being more expensive, but generally longer lasting. Seamless gutters are increasingly popular because they are less prone to leaks than sectional gutters.
Different types of gutter covers can be chosen to minimize the challenge of gutter maintenance. The type of gutter and gutter guard you choose depends on several factors, including roof configuration, the presence of certain tree types (particularly pine) near the house, and the risk for ice dams in the winter.
Roof Configuration and Gutter Effectiveness
The purpose of gutters is to convey water on the roof to the ground while protecting walls, windows, and the structure's foundation. To do the job correctly, your Columbus gutters must be sized properly and selected according to roof area and climate. Many newer homes have roofs that include large valleys and gable dormers, and these complex rooflines affect gutter sizing. The size gutter that's right for a simple, rectangular roof section may not be right for the same roof area that's broken up into several peaks and valleys. Some of the most popular methods for sizing gutters don't account for complex roof configurations, and the result can be gutter overtopping, even if the size is calculated correctly. However, newer methods for calculating gutter size for complex rooflines can help prevent overtopping of your gutters.
Presence of Pine Trees
Pine trees are evergreens, but they do shed needles, and these needles can cause problems with your gutters. When pine needles accumulate in gutters, the result can be clogs and even expensive water damage to your home. Installing gutter guards that are designed with pine needles in mind can prevent these problems.
When you have pine trees near your house, the gutter guard you choose should not be installed on a flat plane. Flat gutter covers end up behaving like a shelf, allowing pine needles to collect, and if pine needles are wet, they won't blow away. When gutter covers are installed to match the pitch of your roof, they have an easier time shedding pine needles and keeping gutters clear and flowing properly. Make sure that the point where the gutter cover meets the roofline does not have a lip or shelf that could allow pine needles and debris to collect.
Ice Dam Formation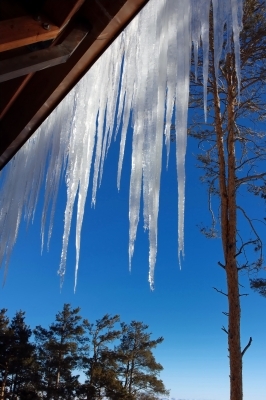 Columbus averages almost 28 inches of snowfall every winter. In the winter of 2012-2013, however, 41.2 inches of snow fell. Ice dams can form when snowmelt re-freezes at the edges of gutters. The melting may occur due to sun warming the roof, or because of heat lost from the living space. As the melt-water refreezes at the edge of the gutter, a dam can form, trapping water behind it. Sometimes this water works its way through vulnerable spots in the roofing, causing damage. Another effect of ice dams is formation of large icicles and slippery spots on walks and driveways below.
There are a number of ways to cope with ice dams, but preventing them is better. Heat cables designed to prevent ice dams should be installed before the snowy season, and are not designed to be used to melt snow and ice that's already there. Another great preventative measure is installing gutter guards before winter. When leaves, dirt, and debris build up in gutters, ice dam formation is accelerated, and gutter covers prevent the debris buildup that makes ice dams more destructive.
Choose your Columbus gutters with care, and you can prevent damage that results from clogged gutters and ice dams. Correctly sized gutters, outfitted with the right type of gutter guard for your home's particular needs channel rainfall properly to help keep your roof, walls, windows, and foundation in good condition.
Written by Chris Martin
Photo Credits: Jeroen van Oostrom / freedigitalphotos.net, Suat Eman / freedigitalphotos.net