How Much Does It Cost to Replace Gutters in Woodbridge, VA?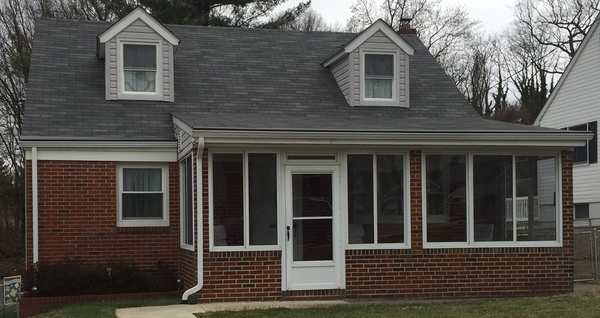 Getting new gutters can be the best decision that you make for your home this year. While gutters might seem simple, they actually help safeguard many parts of your home.
Gutters help maintain the integrity of your landscaping, protecting your garden from puddles and damage to the plants beside your home. They help to keep your foundation safe by reducing overflows and leaks that make the soil sodden, which can cause the foundation of your home to shift. They also help maintain a working, leak-free roof.
If you need new gutters in Woodbridge, VA, how much will they cost?
The Cost of Gutter Replacement in Woodbridge, VA
How much does it cost to replace gutters in Woodbridge? That depends a lot on the kind of gutters you choose. Aluminum and vinyl gutters are less expensive, stainless steel gutters sit in the middle of the cost spectrum, while copper gutters are much more expensive and usually used in higher-end homes and historic renovations. What gutter material will you choose?
| | |
| --- | --- |
| Type of Gutter | Cost per Foot |
| Aluminum | $5.27–$9.56 |
| Vinyl | $5.23–$6.32 |
| Stainless Steel | $8.75–$9.59 |
| Copper | $36.80–$39.33 |
Other Factors That Influence Gutter Replacement Costs
What are some of the other factors that increase or decrease the overall cost of your gutter project? In addition to the materials involved, there are actually many factors that can alter the cost of your gutter replacement. These include:
The cost of living in your area. Areas with a higher cost of living will generally have higher gutter costs.
The size of the gutter your home requires. Larger or custom gutters will generally cost more than 5-inch gutters.
The general layout of your home. Homes that have a more complex layout are harder to work on, which can therefore lead to a higher total cost for your gutter replcement project.
The number of levels on your home will also contribute to the overall cost—multi-level homes are harder to work on than single-story homes.
There will also be a cost for debris removal. If this service is not included in your original estimate, it could arise as an additional cost.
Finally, adding other elements to your project, such as gutter covers or new downspouts, will add to the total cost.
Questions to Ask Your Gutter Contractor
As you prepare for your gutter project, what kinds of questions should you ask your gutter contractor to ensure that you've found the right company for the job? Ask them:
How much will an estimate cost, and what is included in that estimate?
Does your company specialize in gutter replacement?
Do you have local references and examples?
Are your employees licensed, bonded, and insured?
What does your warranty cover? How long does it last?
Asking your contractors these questions will help you find a company that is the correct fit for you.
Looking for affordable gutter replacement in Woodbridge? Our experts at Lednor Home Solutions can help you calculate the cost. Get started.