Do Rain Gutter Robots Really Work?
If you read novels and watch movies from the mid-20th century, you might think that the world should be full of robots by now: robots that can complete any menial task imaginable. Alas, this is not the case. But some people really want this to be true, so they go out and purchase robotic, electronic, and/or remote-controlled devices with the goal of simplifying their lives.
One product which appeals to this market is a gutter cleaning robot. The iRobot Looj is a device that you place inside a gutter and operate using a remote control. It has several cleaning tools on the front which loosen gutter debris and flip it onto the ground as the unit creeps forward on tank-like tracks. The Looj is supposed to let you clean your gutters with less effort, in a shorter amount of time, and while standing safely on the ground.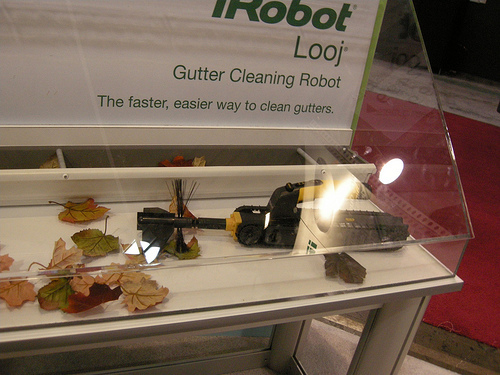 Unfortunately, like many new and innovative gadgets, the Looj doesn't seem to work as well as people think it should. Here is a sampling of some of the complaints about this gutter cleaning robot that were drawn from actual online reviews from users:
"The Looj tends to 'ride up' on debris instead of cleaning it out…"
"… the whole Looj flipped over upside down and shut off."
"It felt like I was assisting a wounded turtle."
"It is only worth getting if you have long, straight runs of gutter."
"…15 minutes to clean 2 feet of gutter (and not cleaned very well)…"
"Looj burbles through the muck in your gutters like a growling, epileptic sea otter, flinging decay and muck out in an impressive fountain which will leave you and your yard splattered…."
"I had to stop using it on one side of my house because it was flinging debris so far that it was hitting my neighbor's house."
"Probably the biggest impediment to its travel is the antenna. [It's] not quite as flexible as it ought to be, and can sometimes bend into a loop that binds in the gutter and stops the Looj."
"According to the instructions, the battery must be charged for 15 hours before using. According to a warning sticker, the battery must not be charged for more than 15 hours."
"Expect to dole out $20-$30 bucks every year for a new auger head."
"On heavily clogged areas, I had to drive the Looj back and forth several times to get most of the stuff out."
"The remote range wasn't very good…"
"…couldn't control the Looj from the ground."
"When you're done, the gutter is much cleaner… but not completely clean."
"The Looj is a complete failure…"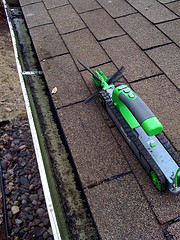 At best, the iRobot Looj works for some homeowners but underperforms for others. And with a price tag of about $130 to $300 depending on the model you choose, it may not be a good deal if it doesn't substantially reduce the hassle involved with gutter cleaning.
If you do want to make a prudent investment, you should have a gutter guard installed instead. With Gutter Helmet's gutter protection system, debris gets repelled so gutter clogs don't form … and you'll never have to clean your gutters again!
Image credit: Tony Buser, ntoper