Do You Need Gutters If You Live in a Dry Climate?
Highlights:
Even in dry climates, there will be occasional rain.
One storm may not cause too much damage, but the cumulative effect of storms over time will cause damage to the house and grounds.
Gutters protect the foundation and siding of the house as well as the soil and vegetation.
People living in tropical or subtropical climates know why they need gutters – in an area prone to rain, they're actively looking for the type of protection that a gutter system provides. But in dry, desert areas, a homeowner might think they can get away without gutters. Are gutters really necessary in a dry climate? This article explains why those living in more arid climates still need gutters.
Protect Your Foundation
You may live in a dry climate, but you don't live in an environment with zero precipitation. Everyone gets rain sometimes. It's necessary for growth and life. But even that very occasional rain can do damage to your property, starting with your building's foundation. 
When there's a storm, the water that isn't directed away from your home by a gutter system just falls straight down, landing on the ground and soil around your home. With too much rain, you can experience foundation leaks. The water can leak into the basement underneath your house, causing a flood and leading to water damage and mold growth. And if that isn't enough, it can also reach your home's foundation. Water damage to the foundation can cause leaks or cracks and require expensive repair. 
Keep Siding Looking Good
The water doesn't have to damage the foundation to cause damage to your house, however. On the way down to the foundation, the water runs down the siding. Your home's siding probably isn't made for exposure to large amounts of water. 
Rainwater isn't cleaned, like the water from your tap or in a bottle you buy in the grocery store. It contains dirt and grit, and it can stain the side of your house. It makes your home look old and dirty and significantly reduces the curb appeal and value of the house. Depending on the siding material, water exposure can also lead to rot, which will mean that you need to replace it. 
Prevent Yard Erosion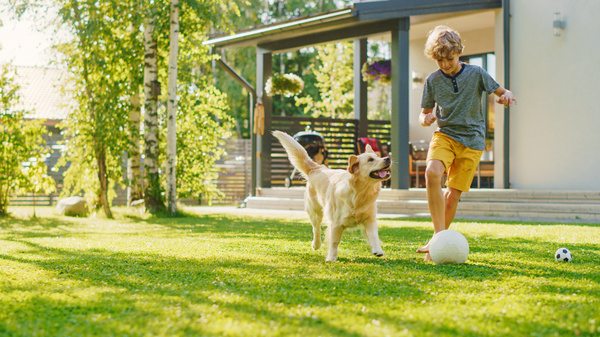 It isn't just your home that might be damaged by water; it's your yard as well. Uncontrolled water raining onto your yard can lead to soil erosion. This can damage your plants, your grass, and the look of your yard. One storm won't damage your yard too badly in and of itself, but the cumulative effect of storms over time will take a toll.
And it's not just the look of your grounds that can be affected – this can also contribute to foundation damage over time. Remember, even if it only rains occasionally in your area, that water damage will add up. 
Gutters may not seem important in a dry area, but they are vital for any home, no matter the climate. If you're looking for a company that understands the gutter system needs of homes like yours, Harry Helmet has been in the business for over 30 years. Schedule a free estimate