Gutter Cleaning: A Great Way to Break (or Prevent) the Ice
Now that Old Man Winter has arrived in your neighborhood, you need to focus on preparing your home for cold weather. Usually, this means wrapping exterior pipes, sealing gaps and openings, and getting your furnace checked. Similarly, you don't have to worry about doing some of the home maintenance chores that are necessary in spring and summer, such as mowing the lawn, planting and watering flower beds, and undertaking major home renovations.

Don't Forget Winter Gutter Cleaning
However, one task that cannot be ignored when the mercury drops is gutter cleaning. Even though you probably won't have the problems with heavy rains in wintertime, there's still the issue of snow, sleet, and ice. When this precipitation falls into your gutters, it's designed to flow through to your downspouts when it melts. But if leaves, pine needles, and twigs are present in your gutters, the water is more likely to adhere to this debris and freeze. This in turn can facilitate ice formation and impede runoff water from reaching its destination, which can lead to many of the same problems that occur during heavy rain events when water spills over the sides of gutters.
Gutter Cleaning Prevents Ice Formation
Taken to the extreme, standing water in gutters can freeze during colder temperatures and form substantial ice blocks inside your gutters. In addition to obstructing water flow, these heavy blocks can put additional strain on your gutters themselves, possibly causing buckling, denting, or seam separations. And let's face it, it's much easier to clean your gutters during the winter than to break up solid ice that forms within them— or to deal with repairing them altogether.
Help Avoid Ice Dams Through Gutter Cleaning
Neglecting gutter cleaning in the winter can also contribute to another major problem: ice dams. These form when the melted snow refreezes at the roofline when temperatures drop (usually at night). After a while, the runoff water cannot penetrate the ice dam, so it finds other places to go, like into your attic, walls, and ceilings. Obviously, this can result in a host of other moisture and leakage problems that no homeowner wants to deal with. While dirty gutters aren't the direct cause of most ice dams, they can certainly contribute to their formation if the gutters are clogged with debris.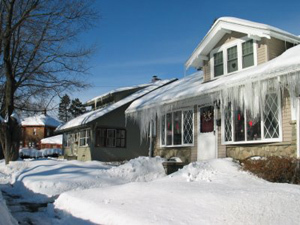 Another option is to have a gutter protection system installed. Gutter Helmet thoroughly covers your gutters so that solid debris is repelled onto the ground, while runoff water flows through a slit and into your gutters like it is supposed to. In addition, a combination gutter cover/heating product called Helmet Heat can provide all of the benefits of self-regulating heating cables in an all-in-one product.
So as you bundle up this winter, don't forget to keep your gutters free of debris. Because gutter cleaning is not just a warm weather endeavor.
Written by Chris Martin