HELP! Woodpeckers are Destroying my House
Woodpeckers can be irritating even when they're just close to your home. If you've ever been woken up by one of them pecking on the trunk of a tree located outside your bedroom window, you'll understand. However, when they start pecking on your siding, roof, or gutters, that's even more serious. Not only is the noise worse, but now you're worried they're going to damage your home. And they may. A woodpecker's beak isn't going to knock holes in your gutters, but it certainly can knock holes in your siding or other wooden parts of the home, and it's probably not good for your gutters either. What can you do? Take a look at some of the reasons why woodpeckers are knocking on your home and how to address them.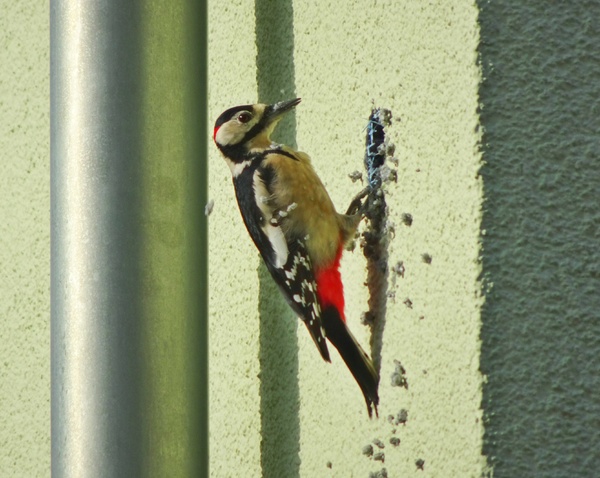 Is It Mating Season?
One reason why a woodpecker will bang on your house is the same reason other types of birds sing – they want to attract a mate. There's good news and bad news if this is what your woodpecker is doing. The good news is that the problem is temporary. Once the woodpecker attracts a mate, it won't need to drum anymore. Although, if the woodpecker and his mate head elsewhere, you may have to worry that a new one will arrive to seek its mate by drumming on your walls.
If this is the problem, scaring the woodpecker away might be the easiest course of action. Plastic hawk or owl decoys can accomplish this, as can shiny pinwheel toys, mylar balloons or strips, or loud noises, which can be as simple as banging pots and pans around or as high-tech as a device that emits recorded hawk sounds. If the woodpecker has a thing for your gutters, you can try deadening the sound by affixing sound-baffling, Styrofoam, or cloth to the gutters.
Does the Woodpecker Need a Home?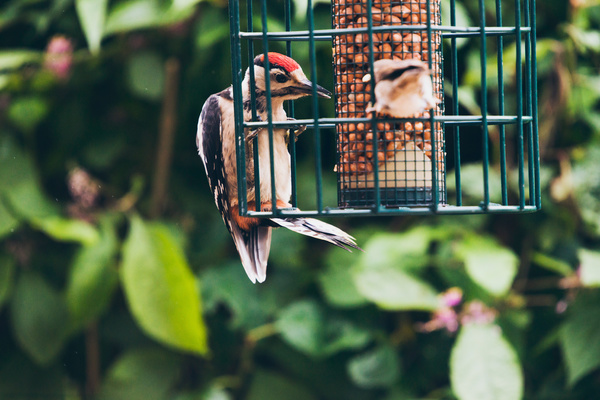 A woodpecker could be drumming because it needs to build a nest and have a place to lay eggs. However, your home is not an ideal place for a woodpecker to build a nest-size hole, and you don't want them to take up residence inside your gutters, either.
If you've got a woodpecker who really wants to nest at your place, however, you may want to try accommodating them. It sounds counterintuitive, but if you place nesting boxes on your roof and attract a woodpecker tenant, they won't need to drum for a nest. Even better, that will become their turf, and they'll defend it against other birds trying to drum on your gutters or roof. You can also try placing a bird feeder a short distance away from the house, so the woodpecker isn't trying to drill for bugs on your walls.
Is The Woodpecker Warning You?
Speaking of food, that's another reason why a woodpecker will drum against a house – because they're looking for tasty bugs to eat. However, while there are always some bugs outside, you really shouldn't have bugs inside your walls for woodpeckers to find through drumming holes. If you do, you could have a bigger problem than woodpecker holes. That drumming may be a warning that you need an exterminator.
The woodpecker could be warning you of something else as well. If you do have a bug infestation inside your walls, one of the contributing factors could be soft wood due to moisture. That could mean that a gutter clog or other damage is causing your gutters to drain incorrectly, allowing water to run down the side of your house rather than guiding it to a downspout. So the woodpecker could be warning you that you need gutter maintenance as well.
Gutter guards are a good way to prevent gutter clogs that can stop your gutters from draining correctly and cause them to overflow. Gutter guards also keep woodpeckers from setting up a nest in your gutters, and they keep other pests out as well. Lednor Home Solution's Gutter Helmet is an effective type of gutter guard that can be installed over your existing gutters and completely blocks anything except water from entering your gutters, putting an end to the hassle of gutter cleaning. If you're looking for a way to keep the woodpeckers away, or if you're just tired of cleaning your gutters, Lednor Home Solutions is ready to help. Family owned and operated for forty-one years, contact them today to schedule a free estimate.