How Much Does It Cost to Replace Gutters in Tacoma, WA?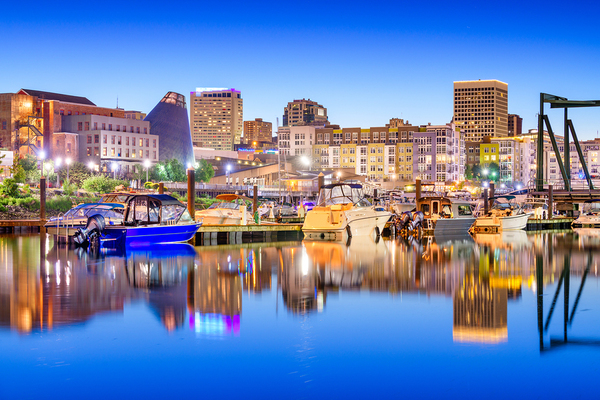 If you had to sum up Tacoma's winters in two words, they would likely be "clouds" and "rain." Tacoma's summers are dry, but its winters tend to be cold and wet. This means that Tacoma residents appreciate their gutters, as they help protect their home siding, landscaping, and foundation from damage. When your gutters need replacing in Tacoma, you need to act quickly so that winter rains don't overflow and cause damage to your home.
How Much Do Gutters Cost in Tacoma, WA?
Depending on the type of gutter you choose, your new gutters will run between $4.15 and $28.50 per square foot.
Why is there such a large price range? In large part, gutter costs are connected to the material cost for your gutters.

Factors That Affect Cost
It's not just about the materials, however; there are numerous factors that change the cost of a gutter replacement project. What are some of these factors, and how can you ensure that your project stays within budget?
Materials: These do come first, as your gutter costs vary mostly due to the material cost. To control costs, look to durable yet less expensive aluminum and vinyl unless you're looking at a very high-end project such as copper gutters for a heritage home restoration.
Size: Larger gutters use more materials and are, therefore, more expensive. If you need 6-inch gutters or custom gutters, they will be more expensive than the prices stated in the table above.
Size of Your Home: The more levels and complexity your home has, the more expensive the project will generally be. Be prepared to have additional costs if you have a complex or large home.
Corners and Downspouts: Does your home have a lot of corners and edges? If so, you will likely need more downspouts, which will add more cost to the project.
Labor: Labor costs vary according to different regions, and if you live in an expensive place, installation is more expensive as well. However, it's also important not to skimp on labor, since you must ensure that your gutters are installed to last.
Removing gutters: Often, companies charge extra to remove debris. Check to see what is included in your estimate.
Extra items: When you replace the gutters, you also replace all of the hardware that goes with them. Here's what it could cost:

Questions to Ask Your Contractor
As you look into the gutter replacement costs in the Tacoma area, make sure that you have an educated conversation with your gutter company. Ask these questions to have a better gutter installation:
How much is the estimate?
Are there elements of the project that are not included in the estimate, such as debris removal?
What is your company's background in gutter replacement?
Are you licensed and bonded?
Is there a warranty on parts and installation?
When it's time for a gutter replacement, contact Lednor Home Solutions. We have decades of experience replacing gutters across the country, and we'd be happy to replace yours as well.
Looking for affordable gutter replacement in Tacoma? Our experts at Lednor Home Solutions can help you calculate the cost. Get started. 
Note: We strive for accuracy in our pricing research, but individual providers may be higher or lower than our estimates. Minimum project size and other special requirements may apply.