How to Clean Stained Gutters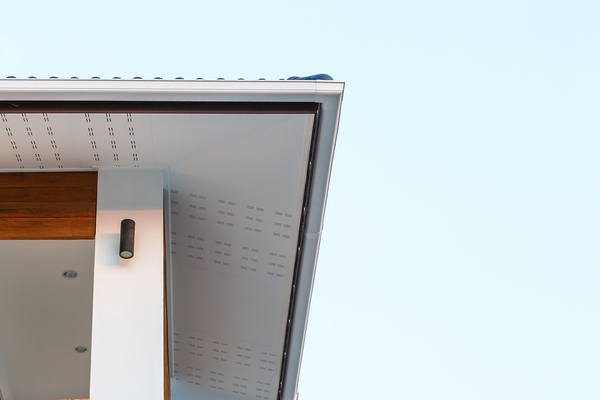 Your gutters are an essential part of your home's look and functionality, yet they're often overlooked during spring cleaning. However, gutter cleaning isn't just a fall project. If your gutters are looking worse for wear, how can you make them shine again?
Why Your Gutters Are a Mess 
Why are your gutters looking awful come spring? There are many reasons, and knowing the reasons can help you properly clean out your gutters.
Your gutters could be full of old leaves. Sometimes, those last stray leaves of fall don't get cleaned out of your gutters, and they sit on or inside the gutters, slowing down the flow of water and slowly rotting.
Lines or tiger stripes form on your gutter over time. According to Hunker, these lines are caused when "roofing tar and asphalt leach down on the gutter, while dirt, mold, and pollutants become electrostatically bonded to the gutter's paint." 
Gutters that have a constant, small flow of water washing over the edge may have mold, mildew, or algae growing on them.
If your gutters haven't been cleaned in some time, they may also have plants growing in them. Sometimes, there may even be birds' or wasps' nests in the gutters. These can lead to blockages, leaks, and staining.
Assessing Your Gutters 
The first thing you need to do to get your gutters shining again is to remove debris and evaluate the situation. You can do this in a number of different ways. You can get up on a ladder and use gloves to remove the debris by hand. Make sure that you use heavy gloves in case you encounter sticks or damaged pieces of metal. Dispose of the debris in a bucket. Use a hose to wash out fine debris.
Now, look at your gutters.
What else needs to be cleaned? How do the gutters look on the outside and the inside?
Make Your Gutters Shine 
Now that you've removed leaves, sticks, nests, and other debris from your gutters, it's time to shine them up.
Depending on how high your gutters are, you may be able to do this from the ground. Make sure that you use proper eye protection if you choose to use chemicals. Get a hose, soft brush, or pressure washer. According to Angie's List, "do-it-yourselfers recommend 409 or Chomp Gutter and Metal Cleaner. If you want to use a chemical-free solution, you can make a gutter cleaning solution with vinegar in warm water." 
Since gutters come in aluminum, copper, steel, and vinyl, if you're looking for a commercial cleaner, always use a cleaning solution that is recommended for your specific gutter material. If you have painted gutters, make sure that your cleaning solution works on paint as well as the underlying material. If in doubt, spot check it before proceeding. Also, if you want to use a pressure washer, be very careful not to damage your gutters as you wash them.
Check For Damage 
Sometimes, your gutters are not only stained – they are also warped, leaking, and need to be replaced. Look inside your gutters and look for areas that are rusted or pulling apart. Consider adding seamless gutters in the future, as they have fewer areas where they must be joined together. Also, in addition to gutter replacement, adding a gutter cover to your gutters will eliminate much of your cleaning in the future.
At Lednor Home Solutions, we're dedicated to your gutters. Whether you're looking for a gutter replacement or you need gutter covers, we're here to help. Contact us to schedule a free estimate today.