How To Keep Bats Out Of Your Gutters
The rain gutters on homes and buildings are supposed to be kept as clean and debris-free as possible. Otherwise, standing water, leaves, and pine needles can create ideal habitats for all kinds of unwanted critters. In addition to different types of insects, dirty gutters can also attract spiders, birds, rodents, and even possums. However, there's one gutter-seeking creature that can inspire fear and disgust like few others can.
Bats!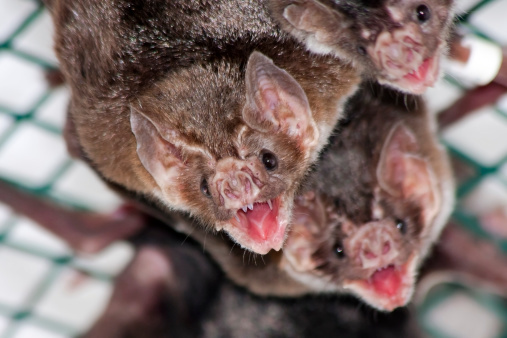 Awwww… aren't they cute?
Bats Invade Louisiana High School
This actually happened at a school in Dutchtown, Louisiana. Officials found some Mexican free-tailed bats in the building which houses the gymnasium, band area, and choir room. These bats apparently got into the school through the gutter openings.
Maintenance personnel tried to smooth the surface behind the gutters so that the bats would not be able to gain traction to climb up into the gutters, but those efforts were unsuccessful. Instead, they actually took the gutters off the building in the hopes of removing the bats' home altogether. Then they spent thousands of dollars to have the bats humanely removed from campus.
The Real Danger Surrounding Bats
Contrary to their portrayal in movies, bats themselves are not the biggest danger to students and teachers at the school. The problem lies with what the bats leave behind: guano. The bat droppings not only produce an overwhelming smell, but also present a health hazard to people. That's because when inhaled, bat guano spores can cause histoplasmosis, an infection which leads to flu-like symptoms that can severely sicken young, elderly, or those with suppressed immune systems.
So how can you tell if you have bats in or around your gutters?
How To Spot Bats Near Your Home
This is NOT cute. At all.
The best bet is to look for telltale signs of bat guano, which usually has a crumbly texture and sparkles in sunlight (because of the shells from the insects eaten by bats). Another clue is the presence of holes in or near gutters through which bats can enter and exit. Spaces near screens, shingles, roof tiles, flashing, eaves, dormers, or pipe and wiring openings are prime places where bats can try to gain entry to an attic, crawl space, or building interior. Obviously, these openings need to be fixed and sealed as part of your next exterior home improvement project – but make sure you do it after all of the bats have flown outdoors.
Getting Rid of Bats
You can call on trained professionals to rid your property of bats. But before you do, there are a few "home remedies" which sometimes succeed in ridding your residence or commercial building of bats: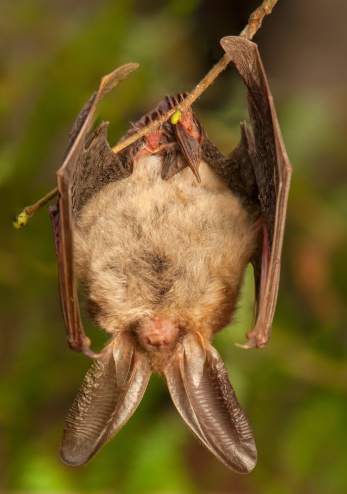 Sleeping off a busy night.
Wrap a cup of mothballs in a five-inch square piece of cheese cloth. Tie the corners to create a sack, then place or hang it near the bats' suspected nesting area. The odor is supposed to keep bats away, although you may have to do this more than once if the bats try to return.
Buy a can of cat or dog repellent. Spray it in areas where you find bat guano. Like mothballs, it may have the effect of discouraging bats from making a home.
Buy a few Mylar balloons filled with helium and hang them near where you think the bats nest or enter a building. These large objects may be perceived as large predators by bats. Large strips of tinfoil sometimes work as well.
Again, bats aren't the bloodthirsty, aggressive monsters that they are made out to be in myths and fiction. Like most wild animals, they try to avoid confrontation as much as possible and usually only bite if they feel threatened. While it's true that bats can carry rabies, the chances of contracting the disease from bats is no higher than from any other creature found outdoors. If you do see a bat on the ground, it's probably hurt or sick; carefully sweep it into a dustpan and dispose of it without touching it.
In short, even though bats aren't that dangerous, they can certainly be annoying to property owners. It's well worth undertaking a bit of exterior home improvement to keep them away from your gutters – before they set up shop there.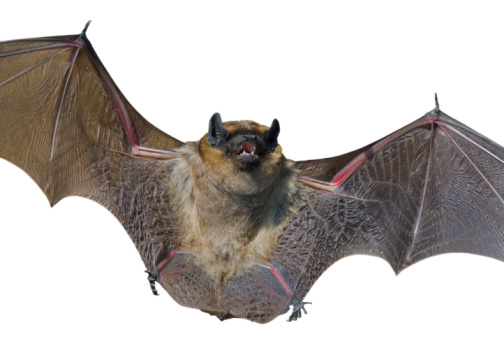 Time to eat!
Written by Del Thebaud