How to Use Rain Barrels to Save Water
These days, everybody is trying to be just a little "greener." Even neighborhoods, governments, HOAs, and municipalities are jumping on the eco-friendly bandwagon by providing incentives to homeowners to encourage them to help the environment. One of the latest efforts is to promote the value of rainwater harvesting.
How a Rain Barrel Works
Rainwater harvesting is defined as collecting the water that runs off of roofs and other surfaces, and then using it for various household purposes. This reduces the need to rely completely on municipal water sources. The simplest type of rainwater harvesting system is a rain barrel that is placed under the downspout of a home.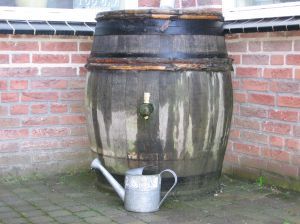 A simple innovation that can save you money.
Some groups are offering to help homeowners adopt this method of water conservation. For instance, a water company in New Hampshire is selling recycled rain barrels at a discount to people who receive water from the company. A similar program is taking place in the Massachusetts city of Burlington. And government agencies in New York City and Oakland have run programs in the past that gave away free rain barrels to some of their customers.
Make Your Own Rain Barrel
Setting up a rain barrel to harvest rainwater is not that hard to do. First and foremost, you need a properly-functioning gutter system that channels roof runoff water to your downspouts without leaking or spilling over the edge. You also need a 55-gallon barrel made of PVC, wood, or similar sturdy material; as well as some mesh screens, a spigot, a drill, a saw (jigsaws work best), and a concrete block or wooden box on which to set the barrel.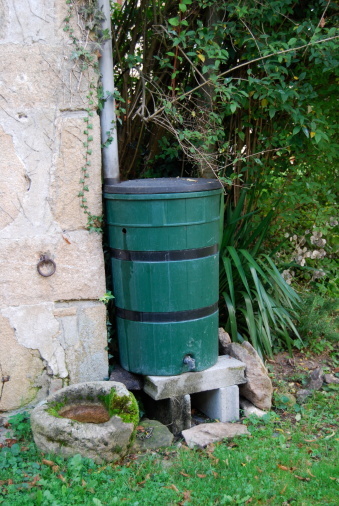 This is a great DIY project.
First, place the rain barrel so it is about two to three inches underneath the bottom of your home's downspout when placed atop your platform. You may need to remove a section of piping or cut your downspout off to get the barrel to fit. Then cut a hole in the top of the barrel a few inches in diameter to allow water from the downspout to flow through it. Staple or affix some mesh screen over the hole. Then drill a hole on the side of the barrel near the bottom. This hole must be large enough for you to screw in the spigot, which should be sealed accordingly with Teflon threads or caulk. Finally, drill a hole on the same side near the top of the barrel to act as an overflow opening. (If you wish, you can attach a small pipe to this hole, but you don't have to.)
Using Harvested Rainwater
Once you have built and outfitted your rain barrel, all you have to do is wait for the next rain event or two. Then you can connect a hose to the spigot (or place a bucket or other container under it) to dispense the rainwater for use. While this water is not potable, it can be used for: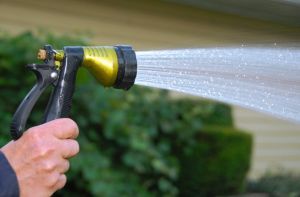 Connecting a hose to the spigot will make it easy to use harvested water.
washing your car
watering plants or flowers in pots or boxes
watering landscaping areas or bushes
watering your lawn
filling your birdbath
washing mud off of footwear or equipment
mixing it with antifreeze or coolant for use in your vehicle
mopping floors or power washing sidewalks or driveways
If this sounds like a good idea for your home, check with your local municipality, water utility, or environmental conservation groups to see if they are offering any discounts on or assistance with supplies or rain barrels. Then start thinking of all the ways you can use your harvested rainwater. Before you know it, you'll be saving money on your water bills while helping Mother Nature as well!
Even Mother Nature can use a little help!
Written by Del Thebaud