How Your Gutter System Can Handle the Next Snowpocalypse
Does it feel like this winter has been more brutal than in years past? Guess What? You're right.
In January of 2014 alone, more than 4,400 record low temperatures were set on various dates throughout the month. And many major cities, including Milwaukee, Indianapolis, and St. Louis, saw temperatures dip lower than they had in two decades.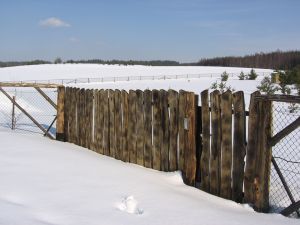 This memorable winter is shattering snowfall marks as well. Over a thousand snowfall records were reported across America during the month of January. Central Park in New York saw a record-breaking eight inches of snow on the day after Super Bowl Sunday. And one day in February, 49 states reported having snow on the ground (Florida was the exception).
Heavy Snow Causes Gutter Problems
It goes without saying that these massive amounts of snow can have a major impact on the lives of Americans. But one area which may not receive as much attention is the effect that heavy snow can have on a home's gutters.
The idea behind a guttering system is to direct the runoff water from melted snow and ice through the gutters and to the downspouts, where it can flow away from the home. But often, debris such as twigs, leaves, or pine needles finds its way into the gutters and provides a framework onto which ice and snow can cling instead of melting. Over time, this debris can form clogs, which prevent water from moving through gutters. Instead, this water drips over the gutter's edge, where it can form icicles that can cause damage if they break off or pool on the ground itself and freeze into dangerous icy patches.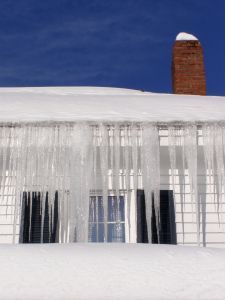 In addition, heavy snow accumulation itself can put stress and strain on the guttering system of a home. This is especially true if ice dams form in the gutters or near the roofline. If left unaddressed, this excess weight can cause gutter fasteners and sections to bend; and the gutters may pull away from the eaves or buckle, bend, or separate. When this happens, the entire gutter system becomes dysfunctional.
Gutter Helmet Can Stand Up To Snow
But here's some good news: you can prepare for the next "snowpocalypse" by installing a Gutter Helmet gutter protection system. Many other types of gutter guards are made of plastic mesh or slotted metal, which provide ample anchoring spots for debris to get snagged on and collect snow or ice. Conversely, Gutter Helmet consists of a nearly-complete cover which repels solid debris and allows it to slide off toward the ground. The melted snow and ice adheres to the surface and drains into the gutter through a small slotted opening.
Unlike many other gutter protection systems, Gutter Helmet has been tested in substantial snowfall conditions. Because it is affixed to each home with heavy-gauge reinforced steel brackets, Gutter Helmet can stand up to the heaviest snow events that Mother Nature can dish out – without buckling or breaking. Gutter Helmet can even inhibit the formation of ice dams, thereby eliminating another source of potential cold weather damage to a home.
So don't wait for the next "snowpocalypse" to protect your home's gutters. Contact Gutter Helmet today for a free in-home estimate – and you can soon enjoy the peace of mind that your home will stand up to even the roughest winter weather events.
Written by Del Thebaud