Milk Makes You Healthy – and Milk Cartons Make Cool Boats!
You've heard the smooth marketing tagline by American milk producers: "Milk. It does a body good." While this may not be a correct blanket statement anymore, it certainly holds true for kids who are trying to build strong bones.

And once the milk carton is empty, it can then "do the mind good" for kids as well – if they choose to use their imagination and create an awesome milk carton boat!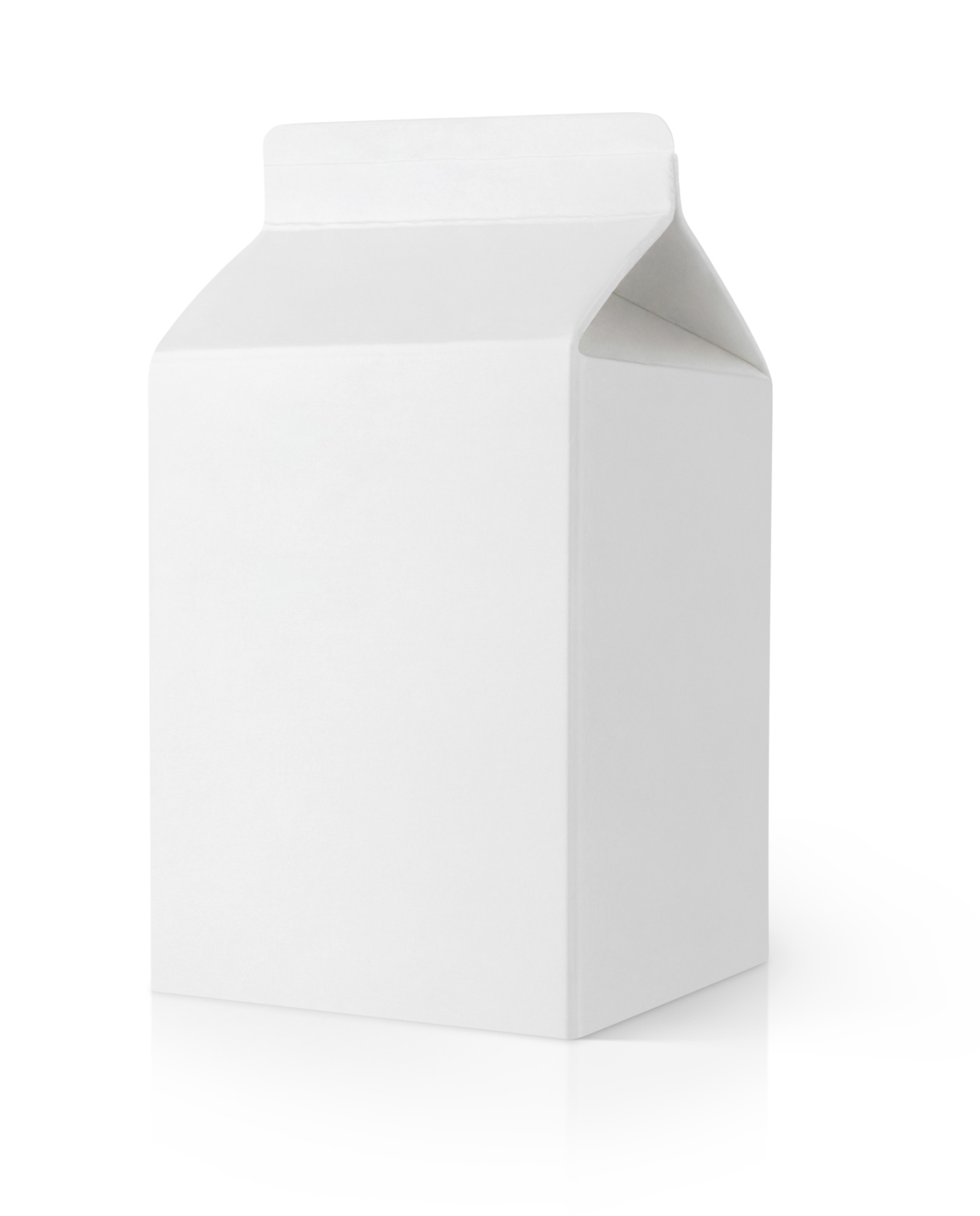 Believe it or not, this simple container can lead to hours of fun for your child!
When properly built, milk carton boats will float easily on any aquatic surface. They can even be propelled using air blown from kids' mouths. Most importantly, the process of building a milk carton (or juice box) boat will help children with their "constructing" skills – and they may even learn a bit about science on the way.

Making a Milk Carton Boat

There's no single way to create a milk carton boat, but you'll probably need a straw, some paper or material, and some glue or tape in addition to a milk carton. Single-serving milk and juice cartons are the easiest to work with, though it is possible to cut the lower half of a taller milk carton off and fold in the sides to create a new hull.

Poke a small hole in the top of the milk carton and place a straw far enough into it so that it remains upright. If necessary, tape the straw in place so that it is perpendicular to the floor. For a juice carton, simply stick the straw in to the old straw opening. If your carton has a circular "pourable" opening, you can stuff paper into the hole and tape it in place in order to reduce the opening's size so that the straw remains in place. 

For the sail, cut some paper or material into a rectangular or triangular shape. Then glue or tape the sail to the top of the straw. And voila! You have a basic milk carton boat. Your child can decorate the boat with markers or paint.

Once you have your milk carton boat, it's time for its maiden voyage. To test how buoyant the boat is, you can fill up a sink, bucket, or tub with water and see how well it floats. If possible, have your child blow into the sail to propel the boat in a certain direction. You may have to make adjustments to the carton or sail in order to achieve buoyancy.

Making a Milk Carton Boat Race Course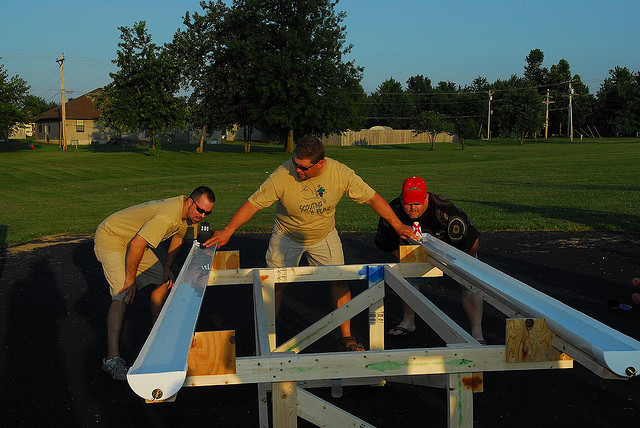 Getting the course ready for the milk carton race.
If you want to race these boats, building a "race course" is easy. Just take one or more ten-foot gutter sections and fasten their endcaps in place with caulk or a similar sealant. Then lay the guttering sections on a long flat surface or between two sawhorses, then use a hose to fill them with water about 1/2 to 2/3 full. Make sure there's enough room on at least one side of each gutter for your kids to walk alongside it and blow into the sail.

Then you're ready for the fun! Set the boat at a "starting line" and mark a "finish line" at the other end. (You can use a pencil to mark them on the gutter lip.) Then on your signal, have your child blow into the sail and propel the boat down the gutter trough. You can either have kids and boats race side by side or time them one at a time with a stopwatch.

Milk carton boats are a fun, inexpensive, and creative activity for kids. Some schools even hold "races" to allow students to showcase their craftsmanship and design skills. But it's also a project that you and your family can complete at home, either outdoors or inside a garage depending on the weather. So save those milk cartons and old gutters so you can make your own milk carton boats!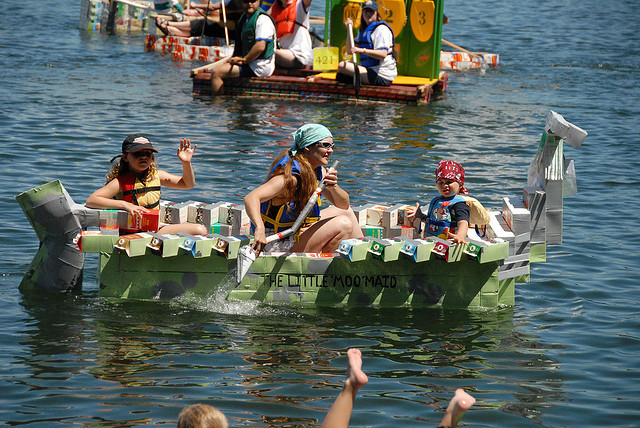 Before long, your kids will want to make THIS type of milk carton boat!
Written by Del Thebaud
Image credits: Flicker – Evan Fusco and Eric Havir