Oops! 5 Most Common Mistakes That Lead to Ladder-Related Injuries
Falling off of a ladder can be funny in a slapstick comedy. But to those who have actually had it happen to them, it can be a harrowing and painful experience.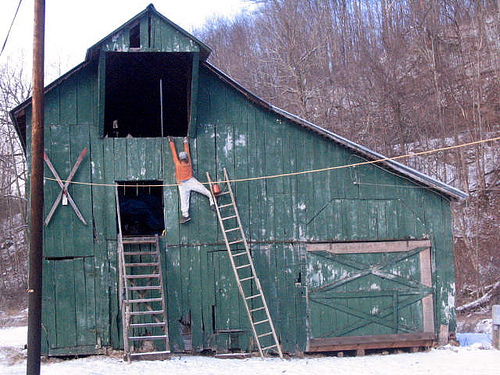 This can't end well…
The Consumer Products Safety Commission reports that about a quarter of a million people visit the emergency room each year because of a ladder-related fall. That breaks down to 28 ER visits per hour, every day of the year.
These falls generally occur while homeowners are cleaning gutters, fixing roofs, hanging Christmas lights, and performing other household tasks. Victims suffer everything from bruises, lacerations, and scrapes to torn ligaments, twisted ankles, and broken bones. In some cases, falling from a ladder can result in concussions, internal injuries, paralysis, or even death. Anyone remember the name Max McGee? Max McGee was a professional football player for the Green Bay Packers, who feel to his death while removing leaves from the roof with a leaf blower, very sad but a stark reminder to the dangers around ladder falls.
How do all these accidents happen? Mostly because of five common mistakes that people make when it comes to ladders.
1. The ladder is set on an uneven surface. Most people know not to place a ladder on rocks or other naturally-irregular surfaces. But they don't realize that even surfaces like soil, concrete, and landscaped mulch may not be completely flat. And if the ground shifts even a little, it can be enough for the ladder to topple over.
2. The spreaders on the ladder are not locked in the horizontal position. This is one of those details that homeowners don't always pay enough attention to as they move their ladder around from place to place. Each time that the ladder is positioned, the spreaders cannot be bent at all; otherwise, the ladder could collapse when a person puts his or her full weight on it.
3. The individual fails to maintain "three points of contact" on the ladder. In this case, "points of contact" refer to the feet and hands. Whenever a person is on a ladder, at least two feet and one hand (or two hands and one foot) should be touching the ladder at all times in order to ensure proper balance. This means that a person shouldn't carry something up a ladder that cannot be held with one hand.
4. Leaning too far away from the ladder. It's understandable; people want to finish the job as quickly as they can. But often, this gets them into trouble as they lean, reach, or stretch in an attempt to reach a spot without having to climb down and reposition the ladder. It only takes one miscalculation to cause an accident. A good rule of thumb is to always keep one's belt buckle between the sides of the ladder.
5. Extension ladders are set too steeply. When using an extension ladder instead of a freestanding stepladder, it must be positioned against the house so that the person doesn't cause the ladder to tilt backward once he or she climbs up near the top. To prevent this, the ladder should be set one foot away from the base of the home for every four feet in the air that the person will climb.
People who adhere to these simple precautionary measures will help drastically reduce the odds of them falling from a ladder — and becoming another injury statistic.
Photo credit: Brendan 29