Rain Barrel Mosquito Deterrents That Work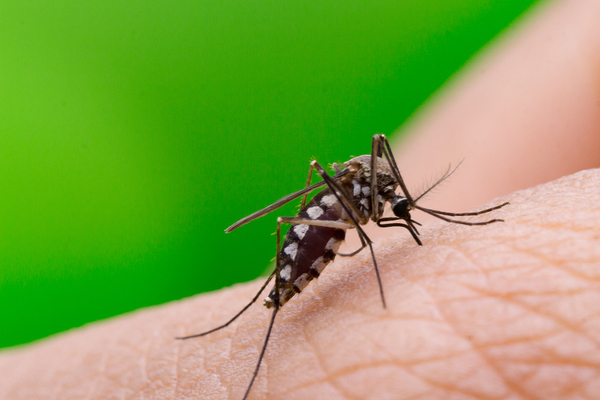 If it's a dry summer, your garden needs a lot of care. Much of this care comes in the form of watering. If there is a drought, that lack of water means that your garden could be less healthy – unless you've planned in advance. Many homeowners choose to save water in a rain barrel that's attached to their downspout so that they have abundant water for their summer garden.
However, that same water can be a home for mosquitoes. While you need water for your garden, you don't want to grow a lot of mosquitoes at the same time. How can you deter mosquitoes from your rain barrel, rain garden, or pond?
The Problem With Mosquitoes
Mosquitoes are a challenge to many during the summer months. That whine that you hear in the air not only brings the potential of a lot of itching, but it can also bring more serious illnesses as well. According to the EPA, "a more serious consequence of some mosquito bites may be transmission of diseases and viruses such as malaria, dengue virus, Zika, and West Nile virus, which can lead to disabling and potentially deadly effects (such as encephalitis, meningitis, and microcephaly). "
Mosquitoes can also be problematic for your pets and farm animals: they can carry dog heart worms, eastern equine encephalitis, and West Nile virus.
Vector-borne diseases are increasing in the United States, and this has implications for both pets and people.
What Mosquitoes Love
Mosquitoes all have a four-stage life cycle: the egg, larva, pupa, adult stage. It only takes a week to ten days for a baby mosquito to turn into a biting adult. If you go away for a week and neglect your rain barrel, you may return to a big mosquito festival in your yard. They particularly love the warmer weather, so a summer vacation can equal a mosquito extravaganza at home.
Mosquitoes are diverse in that they like different types of water in which they lay their eggs. Mosquito species can live in any kind of standing water, including old tires and even areas as small as bottle caps sitting out in the yard. They also love larger, pond-like areas such as the stagnant surface of a rain barrel. By collecting water in a rain barrel, you save water for the summer, but you may be inadvertently cultivating a mosquito population as well.
Deterring Mosquitoes
How can you stop mosquitoes from breeding in your yard? To do this, you need to eliminate or modify mosquito habitats.
Some mosquito habitats are easy to eliminate. For instance, you can pick up that old children's pool that has been collecting water, and you can remove trash from your yard if it's collecting stagnant water.
You can also add predators to your backyard ecosystem. For instance, if you have a quiet pond, add some fish to munch on the mosquitoes, or put up a bat house to attract bats that eat hundreds of mosquitoes every night.
Other habitats are harder to get rid of. If you have a pool that you're actively using, you probably don't want to drain it during mosquito season, which also happens to be the same season when you like to use your pool. If you have a rain barrel where you are collecting water for the summer, you don't want to get rid of that water because it's the water that you need for summer gardening. What can you do if you have areas of standing water that you'd like to keep in your yard?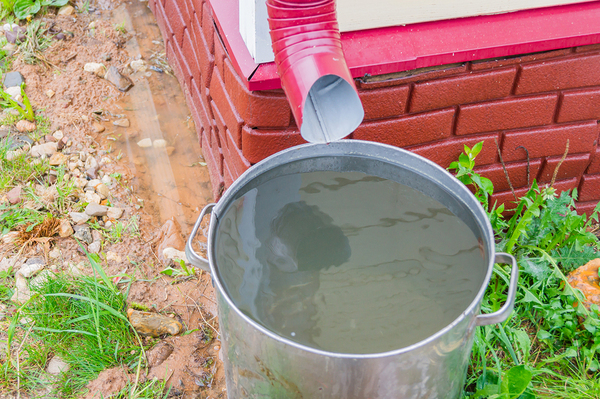 Reduce Rain Barrel Mosquito Populations: Modifying Your Rain Barrel
Thankfully, there are many different remedies that you can use to manage mosquito populations in your rain barrel. These include:
Reducing mosquito access
Modifying the water in the barrel
Changing the habitat
Reducing Mosquito Access
One way to reduce mosquito larvae in your rain barrel is to reduce the access that adult mosquitoes have to it. To do this, you'll need to place a physical barrier over the barrel. You can:
Get a rain barrel that is designed to reduce access. Some rain barrels send water through a mesh sieve on top of the rain barrel. You will need to clean off the sieve on an ongoing basis to make sure that water continues to go into the barrel and does not get stuck in small ponds on the top.
Use a downspout diverter that moves water directly from your gutters and down into the rain barrel. This closed system doesn't allow mosquitoes to get into your rain barrel at all, and even if they did get in, the adults can't get out.
If your rain barrel is already full of water, you can't shift it from one barrel to another. Instead, add mesh netting to the top and use a bungee or other large elastic cord to cinch the mesh down tightly on the top of the barrel. This stops mosquitoes from entering the rain barrel. Yard Care Life suggests that you "get one roll of flexible screening (36 inches wide), some twine, and a packet of zip ties. Cut a screen to cover the rain barrel top. Then, use twine and tie-downs to secure your flexible screen over the rain barrel top."
Be conscious of what's going into your rain barrel. For instance, if your gutters are sluggish and clogged, then mosquitoes could begin breeding in the gutters even before the water makes it into your rain barrel. Clean your gutters regularly, or get a gutter cover to prevent leaves from clogging up your gutter in the first place.
Modify the Water in the Barrel
Changing what is in the water will also change whether or not mosquitoes can live successfully in that environment. Adding nontoxic elements to the water can ensure that it's safe for your garden plants while presenting mosquitoes from breeding. You can add:
Dish soap. Gardening Know How recommends one to two tablespoons a week of nontoxic, natural dish soap, particularly if you will be using this water on a vegetable garden.
Vegetable oil floats on the top of the water and suffocates any mosquitoes that land on the water. You can use any kind of oil, but choose one that is nontoxic and ideally edible if you can, so that you can use the water anywhere, even in your vegetable garden. For instance, you could place olive oil in the rain barrel.
There are mosquito dunks that you can place in your rain barrel. They usually last for a week or two. Make sure that any mosquito dunk you are using is safe for your garden plants as well, particularly if you're eating vegetables grown using the water from your rain barrel.
Changing the Habitat
Mosquitoes like to live in standing water. If you change the habitat, then you change the way that mosquitoes can grow in your rain barrel. How can you make your rain barrel habitat less mosquito-friendly?
Use your rain barrel regularly. When the habitat is constantly changing instead of being stagnant, baby mosquitoes have a harder time developing in the rain barrel.
Use a rain barrel that's designed for the purpose. Many rain barrels have features that reduce entry points for mosquitoes. Buckets do not.
Add fish to your rain barrel. A few hardy goldfish can do well in a rain barrel in the summer months. You'll need to bring them indoors in the fall so that they can survive the winter. Fish do not do well in rain barrels that are in direct sunlight, since the water gets too hot.
Care for Your Rain Barrel
In addition to avoiding mosquitoes in the rain barrel, make sure that it is not spilling water onto the ground and causing puddles. Watch closely for leaks or cracks that might lead to slow puddling of water on the ground. If it is very rainy, make sure that water doesn't pool on top of the rain barrel as it splashes in.
Being diligent about rain barrel maintenance will help prevent mosquito populations from getting out of control in your garden this year. If you're looking for downspout and gutter solutions, talk to Lednor Home Solutions. At Lednor Home Solutions, we're your water experts. We specialize in installing and protecting your roof with gutter covers and gutter heating. Keep your drains clear and your gutters flowing this year with Gutter Helmet and Gutter Heat. Schedule a free estimate today.