Should You Install Your Own Custom Gutters?
Perhaps you've taken a look at the gutters on your home and realized that they are cracked, buckled, or even separated. Or you've noticed puddles and pits near your home's foundation where malfunctioning gutters have allowed runoff water to spill over onto the ground. You may be waffling between two choices: to hire a professional that can replace your gutters for you, or to purchase the materials at a hardware or home improvement store and do it yourself for less money.
Actually, there's a third way which may be attractive to some people. It involves hiring a company to custom-build the guttering for your home, which you can then hang yourself.
How It Works
Gutter manufacturing machines have become so advanced and portable that many contractors now produce their own guttering instead of ordering it from a separate supplier. Some of these companies also offer these gutters directly to consumers as well.
These gutter fabricators will bring their machine right to your home and manufacture gutters to sizes and lengths which you specify. The fabricating company can also supply you with all of the necessary hangers, clips, miters, elbows, and downspouts that you might need for your do-it-yourself job. Though the cost of these accessories might be slightly higher than buying them from a retailer, you can be assured that they provide a precise fit to the guttering that you will be hanging on your home.
The Pros of this Approach
Lower costs. This is the obvious advantage of installing your own gutters. A contractor may charge you twice as much to replace your gutters as he would to purchase materials from a gutter fabricator and let you do the work yourself.
No need to transport materials. You could buy gutter sections (and all related accessories) on your own from a retailer. But transporting ten-foot sections of guttering to your home without damaging them could be challenging.
Seamless gutters. From a quality standpoint, the fabricated gutters will be more effective than store-bought gutter sections because of their seamless nature. Fewer seams means fewer places where gutters can separate or leak.
Access to advice. Most gutter fabricators also know a thing or two about hanging gutters. So while they won't do the work for you, they might be a good resource for you to help you complete the DIY project more efficiently with fewer mistakes.
The Drawbacks to this Approach
Job difficulty. Like most DIY jobs, it looks easier to accomplish than it actually is (even with advice from gutter fabricators). Setting the proper pitch for your gutters is especially difficult; and an and error during this step can have a significant effect on the efficacy of your gutter system.
Related issues. Professional gutter installers are skilled in spotting and fixing problems caused by faulty gutters, like compromised roof shingles, rotting fascia boards, or siding leaks. Do-it-yourselfers may not be adequately prepared to deal with these additional repairs.
Potential for damage. All it takes to damage new gutters is an errantly-placed ladder bending them or a tool dropping on them during installation. Contractors would be responsible for addressing mistakes like these.
Potential for injury. Tens of thousands of people wind up in emergency rooms every year due to falls from ladders. Unless you climb ladders frequently, you may think twice before subjecting yourself to pain and injury.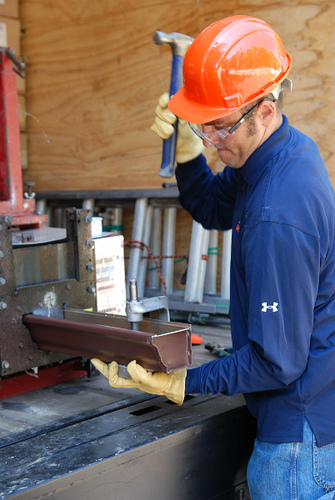 So while the third option of customer gutter fabrication may be appealing, it may not be for everyone. Make sure to examine this issue from all sides so you can reach a decision that works best for your situation.
Image credits: pointnshoot, www.nedstevens.com.
Written by Chris Martin