The Pros and Cons of Different Rainwater Harvesting Storage Tanks
Go big, or go home.

That's the motto of some property owners. They're the ones who build a full guest house instead of a room addition onto their home. And have the deluxe outdoor kitchens on their patio instead of just a barbecue grill. They may even own a jacked-up, tricked-out pickup truck instead of an ordinary vehicle.

The same concept may apply to their rainwater harvesting. Whereas many homeowners might be satisfied with a 55-gallon rain barrel, these "eco-overachievers" may want to put in a storage tank instead in order to collect a larger quantity of rainwater.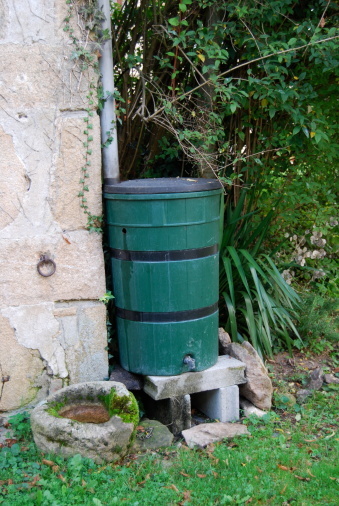 What a wimpy wittle wain bawwel.
If you're considering a rainwater harvesting tank, here's a closer look at some of the material choices on the market today:

Polyethylene (plastic)

Pros: They're the most commonly sold type of tanks, and are found at many farm, ranch, or landscape supply stores. Polyethylene is lightweight, durable, inexpensive, and easy to transport; and available in a wide range of sizes up to 10,000 gallons.
Cons: They don't retain paint well, so they should be prepainted. Dark colored polyethylene tanks absorb heat. Fittings are susceptible to leaking.

Fiberglass

Pros: This material is also lightweight and long-lasting. Fiberglass tanks are reasonably-priced and are available in standardized sizes up to 15,000 gallons in both vertical and horizontal configurations. The fittings won't leak, and the tanks themselves can be easily repaired.
Cons: For sizes of 1,000 gallons and under, they're not cost-effective. If storing potable water, a special resin lining is required.

Metal

Pros: Made of sturdy corrugated galvanized steel metal dunked in hot zinc, metal tanks are strong yet lightweight enough to be transported. They come in sizes of between 150 and 2,500 gallons. 
Cons: Old or recycled metal tanks are not usable because they may contain lead. Bronze or brass fittings can't be used because of the risk of corrosion. A food-grade liner (PVC or plastic) should be used in order to extend the metal's lifespan.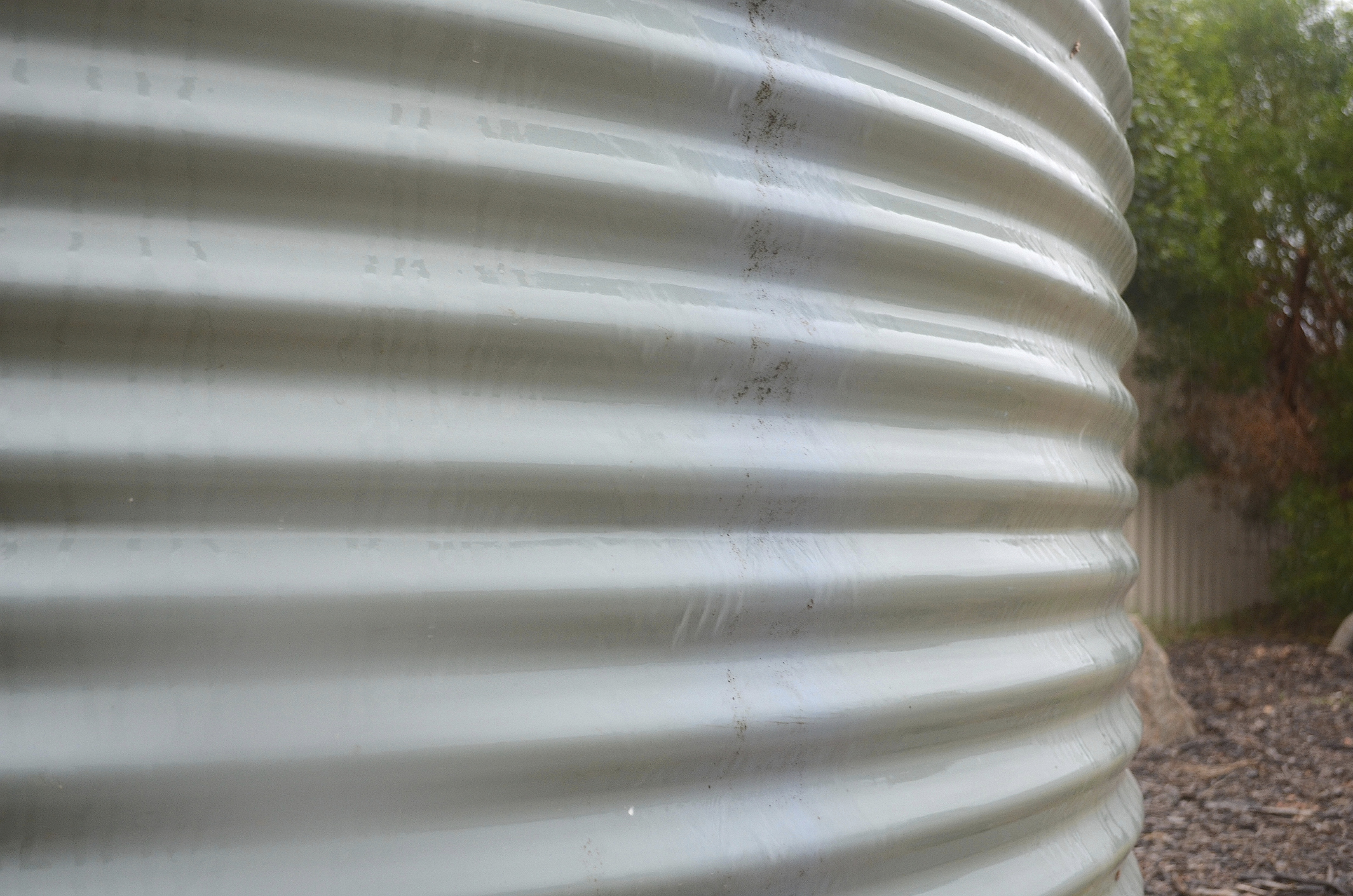 Now we're talking.
Wood

Pros: A more aesthetically-pleasing choice than most other materials, these tanks can be made of redwood, cedar, cypress, or pine wrapped with steel cables and lined with plastic to extend longevity. Wood tanks come in sizes from 700 to 37,000 gallons.
Cons: Must usually be built on-site by a skilled contractor. Cannot be used in hot, dry climates. Some types of wood (like redwood) are quite costly.

Concrete

Pros: Arguably the most versatile rainwater tank material, it can be incorporated easily into new construction plans for a home. They can be prefabricated tanks or poured in place concrete. Over time, concrete leaches into the rainwater, thereby making it less corrosive.
Cons: Concrete tanks are permanent and immovable. A structural engineer's expertise is strongly recommended during its construction. Underground concrete tanks are prone to cracking.

Ferrocement

Pros: This is a composite material made out of steel and mortar. Layers of wire mesh and rebar are embedded in the concrete, which reduces the cost of the tank since the walls can be as thin as an inch wide. Can be built above or below ground by a contractor or as a DIY project.
Cons: Maintenance and repair will be needed as cracks appear. It's important to make sure that no toxic components are in the concrete mix. Might require a coat of white paint to reflect sun's rays and reduce evaporation. Permanent and immovable.

Stone & Mason

Pros: They provide a unique "old world" look, and since they are custom-built, any size is possible. The heavy stone helps insulate the water to keep it cool during summertime. Stone and mason tanks can conceivably last for decades.
Cons: Very expensive, both in material and labor costs. Cannot be moved once constructed. Care must be taken to ensure that no toxic substances are present in the building materials.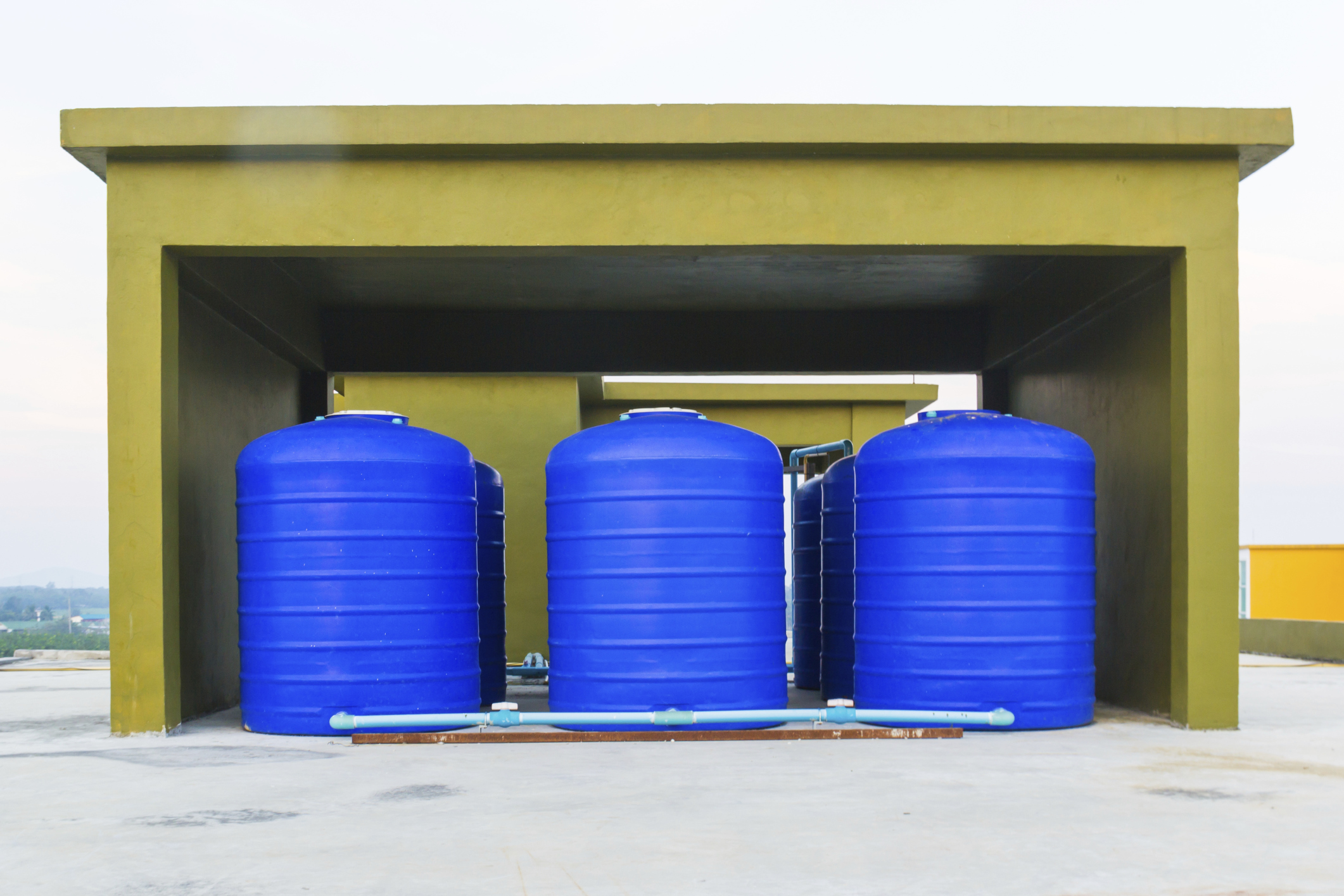 Why stop at just one tank when you can build a trio?
Constructing or purchasing a rainwater harvesting storage tank is a big decision. But for certain homeowners, it can be an excellent investment that conserves water and helps the environment.
Written by Del Thebaud