Top Five Questions About Ice Dam Removal Answered
Ice dams can cause havoc to your property. They can damage your gutter system, your roof, and even your home siding. The kind of damage ice dams can do can be expensive to repair. And you have to repair it—it's not the kind of damage you can ignore; if you try to ignore it, more than likely it will only get worse.
With that in mind, you'll want to avoid getting ice dams in the first place, right? But how?
Here are the answers to five of the most common questions about ice dam removal.
Is ice dam removal covered by insurance?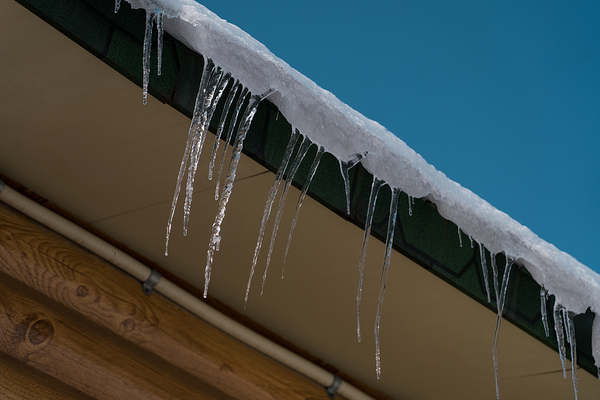 This is a great question, and the answer is: it depends. A lot depends on the kind of insurance you're carrying and how much insurance you have. According to Allstate, personal property coverage doesn't usually cover damage to personal belongings caused by an ice dam, but dwelling coverage can at least help you repair water damage from an ice dam.
But neither personal property nor dwelling coverage is likely to cover the expenses involved in removing the ice dam itself.
What causes ice dams to form on your roof?
Ice dams need several factors to be present in order to form: higher parts of the roof need to be above freezing temperatures, lower parts of the roof need to be at or below freezing temperatures, and an accumulation of snow is on the roof. The warmer parts of the roof will cause the snow to melt. The water then runs down toward the lower parts of the roof where it then freezes.
The ice forms in your gutters and in the spaces around them, and can even form underneath your shingles if they're loose. This can lead to water in your attic. Ice forming under shingles can make it harder to see the ice dam, and therefore, more difficult to catch before it causes real damage.
Does roof raking prevent ice dams?
There are several ways to prevent or remove ice dams, but one way that's often suggested involves using a roof rake to scrape away the snow on the roof. Does this work? Roof raking can be useful, but it's not a cure-all, and in some cases, it will hurt more than it helps.
Roof raking is useful if you're able to remove enough snow completely from the roof. The Spruce recommends removing snow from at least the lower four feet of the roof edge. But if you can't help but leave some snow behind, be wary of using this strategy. Just moving the snow to a different location can actually make ice dams worse instead of preventing them.
When should I remove snow from my roof?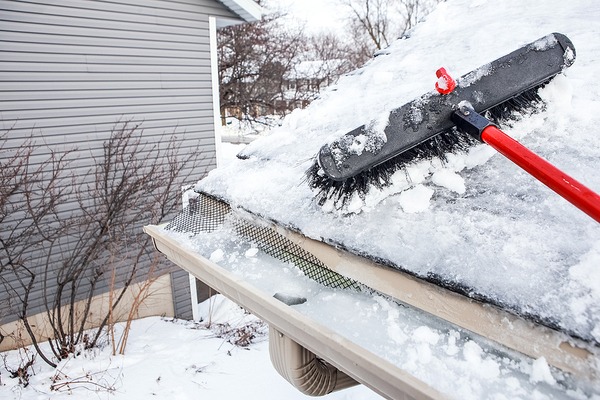 As a general rule, you should wait to rake your roof until you have at least six inches of snow on the roof. You can't rake the roof too often, because that will damage the roof shingles. But the more you let the snow build up, the more likely you are to develop an ice dam. So it comes down to needing to find the balance between too much snow removal and not enough.
If you're going to rake your roof, be careful. According to Popular Mechanics, a cubic foot of ice weighs about 62 pounds. Falling ice and snow can injure you and damage your property and landscaping.
What's the best way to prevent ice dams or remove them if they do occur?
One way to prevent ice dams from forming is to prevent heat loss through the roof. Better attic insulation can help prevent snow from melting higher on the roof and then draining down to form an ice dam closer to the edge. It also helps to keep water flowing freely through your gutter system instead of freezing up. Gutter heating systems and cover covers, like the ones that Harry Helmet offers, can make a big difference in how well your gutters function throughout the winter.
If you already have an ice dam, there are a few things you can do to remove it. You can chip away at it with an ice pick or awl, but be careful not to damage the roof itself. A chemical de-icer can be used to melt the ice and send it through the gutters to drain. Or you can go low-tech and simply spray warm water on the ice dam to melt it. This produces quick results, but Harry Helmet warns that unless the temperatures are warming, ice will re-form in the same places, so make sure that you have a method for preventing new ice dams if you choose to melt an existing ice dam with warm water.
Another option is to hire a professional to help you.
Harry Helmet has been helping homeowners like you protect their homes in the winter for over thirty years. They're ready if you need help with ice dams or other winter roof problems. Get your home ready for winter. Prevent ice dams and protect your gutters.