Using Your Gutters To Make a Difference in Your Community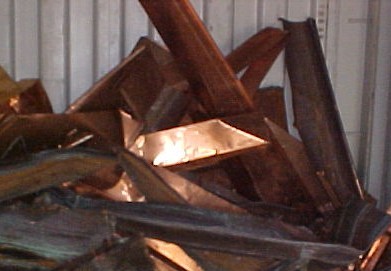 Many Americans are constantly trying to find ways to help those who are less fortunate. Some people volunteer their time to work with charities, nonprofit groups, and outreach organizations. Others donate money to provide funds for these entities or their initiatives.
Maybe you are looking to do your part to make your community a better place. Perhaps you're either searching for something unique to be involved in or have limited resources at your disposal. And it's quite possible that when you look up at your home's roofline, you notice that your gutters might need to be replaced.
Voila! You've stumbled upon a win-win situation. Replacing your gutters not only keeps your home safe from moisture damage caused by misplaced runoff water, but it also affords you an opportunity to use the old gutters for a charitable endeavor. Here are five suggestions on how to use these gutters in a "charitable" way:
1. Recycle your gutters, and donate the money to charity.
This is the simplest and most direct way to make a difference. Undoubtedly, there is at least one scrap metal recycler in your area who will gladly give you money for your used aluminum, copper, or steel gutters. So remove your old gutters, gather them up, and haul them to the recycling facility – then take the money and give it to a charity of your choice.
(Take this a step further: if there's been a big storm in your region and many people have to replace their damaged gutters, go door-to-door offering to haul the metal away for free – then take the money earned from recycling them and donate it to the Red Cross or a local group that's helping those who have been displaced by the storm.)
2. Build a gutter garden and sell your bounty for charity.
Take gutter sections and either mount them to a fence or hang them from your patio or balcony, then fill them with soil. You can plant herbs flowers, and even produce and then nurture them until they are ready for harvest. Package them for sales to individuals (either on your own or through a farmer's or community market) and donate the proceeds to the charitable organization of your choice.
3. Build a rainwater harvesting system, then accept pledges for harvesting water.
You can do this without having to replace the gutters that are currently on your home. A basic rainwater harvesting system involves placing a rain barrel under the downspout opening. Once your system is in place, solicit pledges from people in your community based on how many gallons of water you harvest in a specific time period. For example, a donor could pledge $1 per gallon if you fill a 55-gallon rain barrel by the end of the summer. Then take your money and give it to a conservation group or similar organization.
4. Hold a gutter regatta or minnow races to raise money for charity.
Each of these ideas have already been carried out by a few groups. Minnow races involve entrants trying to "encourage" their minnows to win a race conducted in a ten-foot long gutter section filled with water. A regatta lets competitors build homemade "boats" that are propelled through a water-filled gutter section by blowing on a sail. Entry fees from these events can be given to a worthy cause of your choosing.
5. Refurbish old gutters into functional or artistic items that you can sell for charity.
If you're a creative and/or handy person, you can transform old gutter sections into something completely different. Old gutters can be repurposed for cord and cable holders, shelves, or gutter gardens; or the metal can be shaped into any type of artistic creation that you can think of. If you sell these products at craft fairs, you could raise a lot of money to help a charitable organization.
Believe it or not, your time-worn gutters can be the key to improving the lives of others. You can take on this challenge yourself or team up with others to accomplish this goal. Either way, you might be surprised at how much of a difference you can make simply by not discarding your old gutters!
Written by Del Thebaud