What Gutter Cleaning Tools Do You Really Need?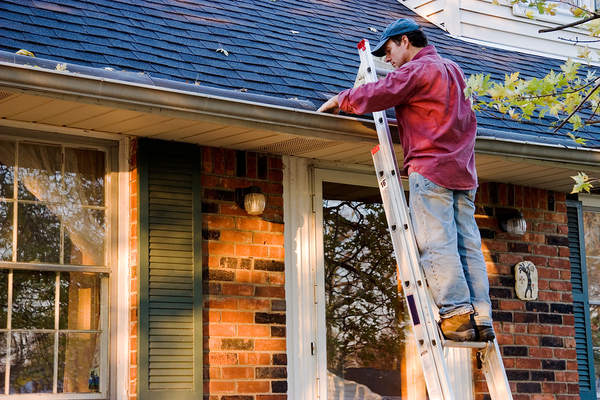 It's the small things that make your house look tidy. The flowers that bloom every spring have colors that blend perfectly. You've positioned the fragrant lilacs right by the front door. Your living room looks out onto a bird feeder where you can watch birds all winter.
Amidst all of these details, the joy of a clean gutter cannot be denied. If you walk up to your home and you see a gutter that's full of debris, you know that not only does it look untidy, it also leads to potential problems with your roof and foundation. You see current work and future repairs. How can you keep your gutter clean so that those problems don't come to pass?
The Problem of the Untidy Gutter
Why do you need to clean your gutter, anyway? An untidy gutter isn't just unsightly. It also leads to problems later on. For instance, a cluttered gutter can lead to:
Problems with mice and wasps nesting in your gutter.
Gutter backups. These lead to problems where your gutter attaches to your home. They also lead to problems with your shingles. Roof rot and gutter backups might not seem to be related, but they are.
Overflowing gutters. This causes landscaping damage and can loosen the soil around your foundation, leading to shifting foundations, cracks, and leaks.
Damage to the gutters and drains themselves. Overloaded gutters can warp and tear away from the house, and damaged gutters can also get rusty more quickly than gutters that are not full of sticks and leaves.
What can you do? For years, people have been cleaning their gutters. Some do it seasonally, while others do it in a panic when the gutter starts overflowing. It's best to be proactive with your gutter cleaning, ensuring that you clean your gutters or get them cleaned before they start overflowing.
However, this can mean a lot of time spent on a ladder or a lot of money spent on gutter cleaners. If you need to clean your gutters, you need to have the best tools for the job as this can make cleaning easier and more effective.
Gutter Cleaning Techniques
How can you clean your gutters in a way that will help your gutters stay clean and not experience damage due to the cleaning?
Angie's List recommends that you clean your gutters in the spring and the fall. Work in pairs so that there's someone there to stabilize the ladder and help you if you get hurt or need a hand. You should wear good shoes and stabilize your ladder before climbing up to your gutters. Use protective gloves and a small gardening shovel to scoop up debris. Hose off your gutters before you determine that they're done. This way, you can confirm that water is indeed moving down the gutters to the downspout. If you find that you have a clog, you may need to use a tool like a plumbing snake. This tool can help you find and extract larger objects that are stuck in the downspout. Always check your gutters at the end to make sure that they're not rusting or so damaged that they are coming off the building, and look at the areas around the gutters and investigate them for rot.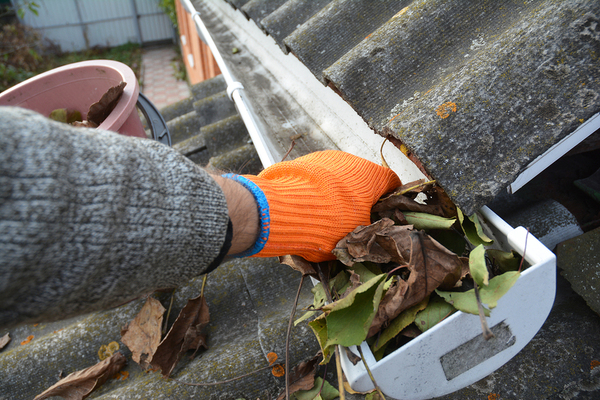 Gutter Cleaning Tools
If you're tired of the traditional way of cleaning gutters and want to look for higher-tech and potentially more effective solutions, Popular Mechanics has some suggestions for you.
Try a blower unit that allows you to stand on the ground and blow the debris out of your gutters. Make sure that you wear eye protection!
Use a Gutter Getter cleaning kit that allows you to reach different parts of the gutter while your ladder is in one place. This reduces the possibility that you will reposition your ladder in a place that is not adequately stable, a very real danger of gutter cleaning.
Get a bucket hanger so that all of that dripping debris from your gutters has somewhere to go right after you scoop it out of the gutter.
Use Thinsulate gloves to keep your hands warm and relatively dry as you are scooping gutter muck.
Keep Your Gutter Clean Permanently
Would you like to avoid cleaning your gutters? Of course you would, but avoiding cleaning your gutters isn't the answer to all of your problems, because that will cause other problems that you need to deal with down the road.
However, there is one way to avoid gutter cleaning. Start with a gutter cover so that your gutters don't get cluttered in the first place.
A gutter cover goes over your gutter to stop debris from entering. Some look like mesh filters, and others look like a strip of foam. A very effective gutter cover is the nose-forward design made by Harry Helmet. Gutter Helmet is ribbed so that the panels are able to slow and manage rainfall. The opening is flush with the gutters so that debris is unable to move into the gutter and downspout. Strong brackets hold the gutters onto your home. Surface tension keeps the water moving down into the gutters, while debris just slides off the end of your gutters.
While there is an initial cost to install the gutter covers, adding a gutter cover reduces future costs. How?
You don't need to pay someone to clean your gutters.
You avoid injuries caused by cleaning your gutters, such as falls from a ladder.
You don't need to buy gutter cleaning equipment.
You don't need to buy new gutters when the old ones get damaged by debris.
You don't need to deal with home and landscaping repairs due to overflowing gutters.
Keep Your Gutters Clear in the Winter
In the winter, your gutters experience other problems. If you live in a place with a lot of ice and snow, chances are that your gutters fill up with that ice and snow. While it doesn't last forever, it can be a big problem while it lasts. Ice that accumulates in the gutter can warp the gutter due to expansion and the weight of the ice. The ice that moves up onto your roof can damage your shingles, leading to rot over time as shingles get loose and let water in.
Thankfully, there's a solution to unclog your gutters in the winter that doesn't involve an ice pick and broken gutters. By adding a gutter heating system to your gutters, you can ensure that they don't clog up. Instead, snow, ice, and water that move into the gutters are gently warmed and remain liquid, flowing out of your gutters instead of causing roofing damage.
A Warranty That Lasts
If you invest in gutter cleaning tools or technologies, you want to make sure that they actually do what they say they are going to do. When you get a gutter cleaning tool, you need to determine how to use it correctly in a way that won't damage your gutters or the cleaning tool. Each tool has a different length of use. Over time, you can invest a lot of money in scrubbing tools since they wear out as you clean your gutter.
With a gutter cover, you no longer need to scrub and wash your gutters. Your gutters don't wear down due to ongoing debris accumulation, scrubbing, and washing, and neither does your gutter cover. Over time, it continues to send debris off the lip of the gutter cover and down onto the ground. Since debris doesn't sit on or go into the gutter, the gutter cover doesn't clog. Instead, it continues to allow water to flow into the gutter and down into your downspout.
How do you know that your gutter cover will actually work? You need to find a gutter cover with a good reputation and a strong warranty. Just like gutter cleaning tools, not all gutter covers are created equal. Some just trap debris above the gutters, so they need cleaning over time as well.
At Harry Helmet, we're proud of our triple lifetime warranty for our gutter cover products. You know that the materials will be strong, the installation will be exceptional, and you will be able to count on your product over time. If you have questions or concerns, we can address them. Our gutter covers aren't a throw-away, short-term use product. We want your gutters and your gutter covers to last for a long time and protect your home for many years to come.
At Harry Helmet, we're here to help you keep your home running smoothly. We offer the Gutter Helmet gutter cover system so that you'll never need to stand on a ladder with gutter cleaning tools again. Isn't that something to look forward to this year?  Schedule a free estimate and see how we can help make your life simpler.