Your guttering system is an integral part of your home's drainage plan. Properly-installed gutters will collect all of the rainwater and snowmelt that runs off of your roof, and then channel it toward the downspout openings and down into the vertical piping.
But where does the water go once it leaves your downspouts? 
If it just sprays randomly into your yard, you could be subjecting yourself to a host of problems. Rapidly-flowing water can erode sod, flood gardens, and destroy landscaping. Even trickling water can form pools and either seep underneath concrete slabs and sidewalks or sit on the surface and act as a breeding ground for mosquitoes and other pests. But the worst case scenario? The errantly-directed water can flow back toward your home, where it can seep into siding, flood basements, and cause costly foundation problems. So how can you address this issue? One effective way is to build a French drain.
How Does a French Drain Work?
Put simply, a French drain is a network of underground pipes or channels that direct runoff water from one place to another. A French drain is constructed so that water flows along a naturally downward-sloping path until it empties out into an alley, ditch, street, or sewer. This system is especially helpful on properties which are completely flat and cannot facilitate aboveground or external piping.
Constructing a French Drain
Building a French drain is not as difficult as it may seem. The process begins by planning exactly where the water will end up and tracing the path of how it will get there. The pipes should not cut through any utility, cable, plumbing, sprinkler, or gas lines; although they may be able to be run over or under these obstacles. The key factor is that the ground and/or the pipes will have to continuously slope downhill until they reach the termination point of the French drain.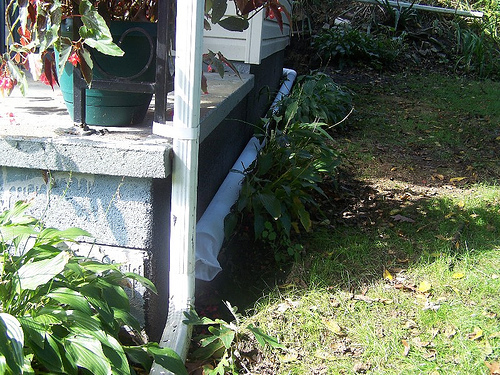 Once you have designed the runoff water's route, you can begin digging the trenches into which the pipes will be placed. The trenches should be between eight and twelve inches in both depth and width, and they should start below each gutter downspout on your home. If your property does not slope naturally, you will have to make the trenches progressively deeper the further they get away from your home's foundation. Once your trenches have been dug, spread landscape fabric, rocks, shells, or gravel along the bottom and edges.
French drains are usually made of rigid PVC piping (although other materials may be used). You can either affix one end of the pipes directly to each downspout opening, or dig out a depression under the downspout and place a drain grate over it. Before laying the pipe, be sure to perforate each length on the bottom side so that water can drain into the ground and nourish the soil along the way. Make sure all pipe lengths are attached tightly with collars and/or sealant, and position the bottom opening of the piping system so that it is not easily blocked. Once all the pipe is laid, cover it up with another layer of shells, rocks, fabric, or gravel before leveling the ground with the fill dirt.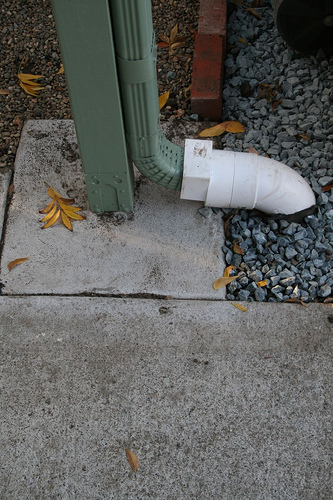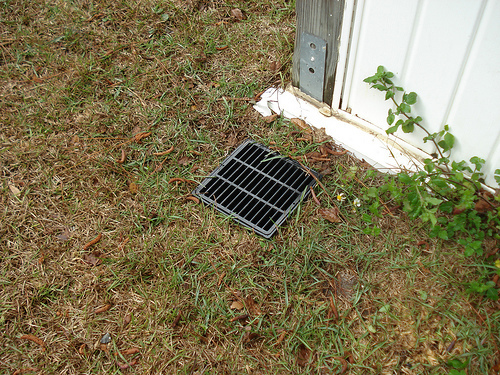 It doesn't take much to know that water flows in only one direction: downhill. And although you can't change the laws of physics, you can use them to direct runoff water away from your home efficiently. Building a French drain (or hiring a professional to do it for you) can be the solution to the runoff water problems of almost any homeowner.
Image credits: rootbeer1@sbcglobal.net (2), ableibo, colemanitis
By Chris Martin