What Size Gutters Do You Need?
Is a gutter just a gutter? While a certain shape and size may come to mind when you think about gutters, these water-bearing troughs can be many different shapes and sizes. Gutters are more diverse than you think, and knowing what types are out there can help you determine what gutter product would be a good fit for your home.
Gutter Replacement: Gutters come In Different Sizes
When you are completing a gutter replacement, the first point to note is that gutters come in different sizes. They can be 4, 5, or 6 inches. Downspouts also come in different sizes, such as 2×3 inches and 3×4 inches in size.
According to This Old House, while 5-inch K style gutters and 6-inch half rounds are usually suitable for homes, "houses with big, steep roofs or those located in climates prone to heavy downpours may need wider gutters and extra downspouts to keep rainwater from overflowing." 
How can you determine what size of gutter you need? It's a question of practical math. Here's what you need to know to determine your gutter needs.
Consider Your Drainage Area
How do you do the math to figure out how large your gutters should be? 
You'll also need to look at how much water is going onto your roof and flowing into your gutters. A larger roof means that more water will move into the gutters. Don't forget to count all of those little parts of your roof if you don't have a simple roofline. 
To find the drainage area of your roof, multiply the length and width of all the parts on one side of your roof and add them together to get the drainage area. This is simple if you have a straightforward roof style, but it can get more complex when your roof has many different parts. 
Gutter Replacement: Calculate Your Roof Pitch
If your roof is steep, you'll need a larger gutter. That's because your roof is like a waterslide, and the water slips down quickly into your gutter when there is a steep pitch. It can easily overwhelm your gutter capacity.
You need to multiply that drainage area by the roof pitch and the rainfall intensity. To find the roof pitch, hold a level against the roof until it is level, then look at the middle of the level and measure upwards until you get to the roof. This number will tell you your roof pitch. If the number is 3 inches or less, you don't need to add any additional capacity for your roof pitch, because your roof is very flat. If it's 12 inches or more, you need to multiply your roof's square footage by 1.3.
Here are the numbers you need to adjust your drainage area number.
4 inches: multiply drainage area by 1.05
6 inches: multiply drainage area by 1.1
9 inches: multiply drainage area by 1.2
12 inches or more: multiply drainage area by 1.3
You can also work with a professional who knows the climate in your area and who understands what size of gutter you need to work with the roof that you have. Download our free gutter guide for more helpful information.
Consider how intense your rainfall is when you are thinking about the size of your gutters.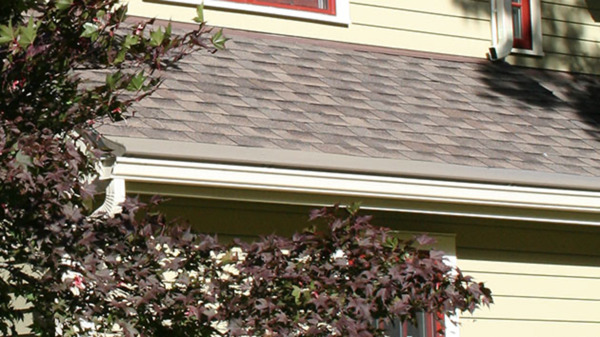 Figure Out Your Rainfall Intensity
Look at the rainfall in your area, particularly the intensity of the rainfall events. When the rain falls, does it come slowly over many hours? Does it all pour down within a few minutes? To your gutters and your garden, these two events feel very different. That rush of water can be difficult for your gutters to accommodate.  You can determine the maximum rainfall intensity by looking at data from the US Weather Bureau. 
Gutter Installation: Consider Your Gutter Shape
In addition to understanding how much water is coming off of your roof and how quickly, you'll need to adjust for the shape of gutter you have at your home. Different gutter shapes can accommodate different amounts of water at one time. 
K-style gutters look more like crown molding and can accommodate approximately double the amount of water as half-round gutters. According to This Old House, the following measurements apply to gutter capacity for K-style and half-round gutters: 
K-Style     Adjusted Square Footage of Roof 
5-inch      5,520 square feet
6-inch      7,960 square feet
Half-round  Adjusted Square Footage of Roof 
5-inch          2,500 square feet
6-inch          3,840 square feet
When you are considering what kind of gutters to get, keep in mind that different gutter shapes have a significant impact on the capacity of the gutter.
Are you looking for a gutter replacement? At Lednor Home Solutions, gutter installation and gutter covers are our specialties. If you have questions about gutter replacement and installation, connect with us today.