What's New in the Gutter Guard Market?
Inventors and entrepreneurs are constantly coming up with new ways to address old problems. In the gutter industry, the experts are focused on keeping gutters clog-free and properly functioning so that homeowners don't have to climb up on a ladder and scrape out gutter debris. Here is a quick look at some of the newest offerings in the gutter guard market:
LeafsOut Micro Mesh
This DIY product is for homeowners who have trouble finding micro mesh gutter guards that fit their gutters. LeafsOut are six-inch long micro mesh sheets that are expandable from just under five inches to almost 6 1/2 inches in width (much like a "baby gate" expands). The idea is that the micro mesh will fit any sized gutter precisely to keep solid debris out while allowing water to flow through. The main problem: it's still mesh, meaning that leaves can lie atop the gutter guard and prevent water from draining into gutters.
The Needle Beetle
If your home is besieged by pine needles, this gutter guard is catering to you. The Needle Beetle actually consists of three "sections," two of which are attached on top of your roof, while the third overlays your gutter with a solid metal mesh. The idea is for pine needles to be collected by the upper sections instead of accumulating on or in your gutters. But The Needle Beetle doesn't make lofty promises about keeping out other types of debris; and attaching it to your roof shingles may void your roof warranty.
Leaf Defier
This new product takes a different approach to gutter protection. Leaf Defier is actually a lightweight polyurethane insert that fits snugly inside your gutters. The idea is that it's porous enough to allow water to seep through it (like a sponge), but solid enough to prevent leaves and other debris from clogging gutters. However, while the debris won't flow into gutters, it will sit on top of the gutter guard, which could redirect water over your roofline and onto the ground. Even the product's website admits that "periodically, debris caught on top of the product may need to be removed."
Rainhandler Gutters
Instead of putting something in or on top of existing gutters, this product replaces them altogether. Rainhandler is not a "trough;" instead, it's a flat piece of louvered metal which is vented with holes. Instead of channeling water toward a downspout, this product disperses it evenly in small drops into your yard a few feet away from your home. But the product doesn't mention how it responds to solid debris, leaving one to wonder whether accumulations of leaves or pine needles would cause water to fall straight down near the home's foundation.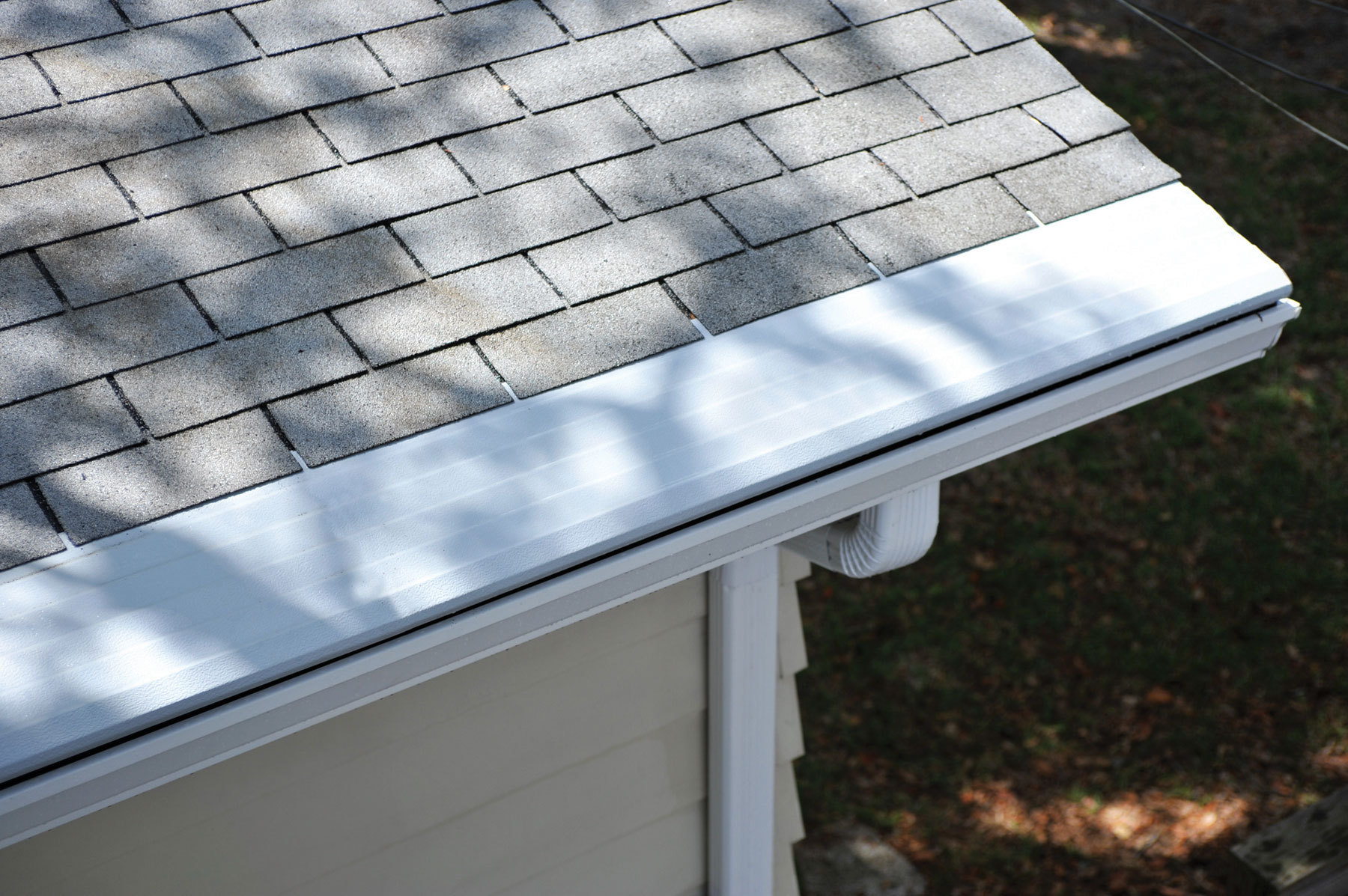 Gutter Helmet Still Leads the Pack
Despite the slew of new gutter protection products on the market, homeowners are still better off going with the tried-and-true success of Gutter Helmet. The main advantage of Gutter Helmet is that it never allows debris to reach the open trough of the gutters, but instead directs it over its reverse curve, nose-forward design and onto the ground below. In contrast, runoff water adheres to the coated surface and flows into a narrow slit that is too small for pine needles, leaves, twigs, and other objects. Plus, Gutter Helmet is professionally installed by a Harry Helmet team , so homeowners can rest assured that the job is done right.
Gutter guard products come and go. But there's a reason that Gutter Helmet has been protecting thousands of homes from clogged gutters for over four decades: because it works better than anything else out there.
Written by Chris Martin