What's With the Black Marks on Your Roof?
Black is a sharp, versatile color that is appropriate in many different products. Its understated qualities are ideal for the exteriors of electronics like TVs, computers, and audio systems. The mystique it evokes makes it a popular choice for car, truck, SUV, and motorcycle owners. And of course, its slimming effect is why black shirts and dresses never go out of style.
But one thing black is not attractive for is rooftops. More specifically, homeowners don't like to see unsightly black streaks on their composite shingle roofs.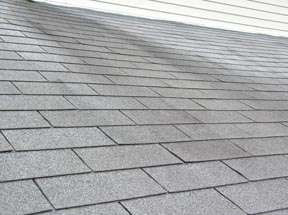 How Roofs Get Black Marks
The black marks are actually a result of an algae known as Gloeocapsa magma, which can form and grow thanks to natural photosynthesis processes. Its fuel source is limestone granules in asphalt shingles which began appearing in these products a couple of decades ago as part of the material that coats them. Modern roofing materials are sometimes treated with algae-inhibiting zinc or copper, but that process doesn't permanently eliminate the problem.
The black streaks are actually comprised of decayed algae, which sports a blue-green color during its growth stage due to its UV-protective coating. The algae is more prevalent in the southeast U.S. and other areas where the humidity tends to be higher during the warmer months. And it's more likely to be found on a roof's northern slope, which is more hospitable to algae growth because it tends to be the roof's wettest and darkest side.
Why Black Marks Can Be a Problem
This algae can cause more problems than just bad aesthetics. Algae formation can damage a roof and/or allow it to retain moisture, which may weaken its structural integrity. In addition, algae can team up with various types of fungi to produce lichen, which feeds on the limestone granules in shingles and fastens its roots to them as well. Unlike algae, lichen is heartier and tougher to get rid off permanently; and power washing or scrubbing will actually do more harm than good.
What to Do About Black Marks on a Roof
Therefore, it's important to address the algae issue on your roof before it leads to irreversible damage. Here's the good news: in most cases, it is unnecessary to replace your roof with new shingles. A thorough and proper cleaning will get rid of the algae at a cost of about 5% to 10% of a complete roof replacement.
There are a number of companies who are skilled in the removal of roof algae and the black marks it causes. These contractors know not to use high-speed power washing techniques, which can tear off the protective granules on the shingles and reduce your roof's lifespan. It's important to use the right cleaner as well; while a chlorine-based chemical may be necessary to scrub the algae away, steps must be taken to minimize the destruction it can wreak on the surrounding landscaping when it runs off the roof. A successful algae removal should keep your roof streak-free for between two and five years.
Your roof is like your driving record: no one wants any black marks on it. Taking care of the problem sooner rather than later can help you avoid the hefty costs of a premature roof replacement, while restoring your roof to its natural color.
Image credit: Axiom Home Inspection
Written by Chris Martin, Qcare