When Does Snow on Your Roof Become a Problem?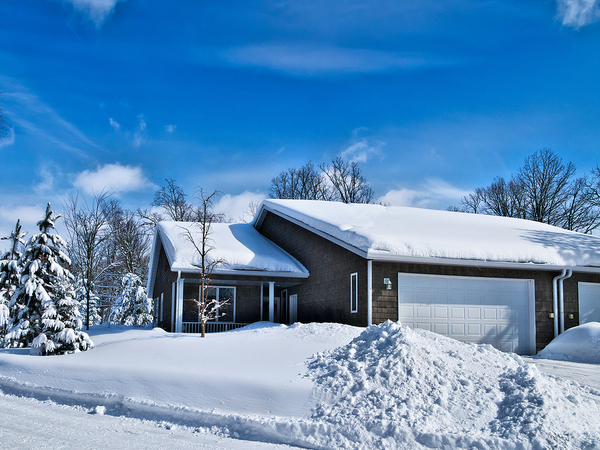 When is it too snowy for your home? While a snowy roof is calming and beautiful, a cozy sight in the winter, it can also be a source of a lot of work and stress. When should you be worried about snow on your roof?
The Snow Load Is Too Much
There is no hard and fast rule about how much snow is too much for your roof. According to Popular Mechanics, "whether a roof can sustain a load without damage or collapse depends mainly on the depth and density of the snow, as well as the depth and spacing of the rafters and trusses." These interactions between the snow and the structure of your roof determine whether your roof can handle all that snow. Higher-risk roofs are:
Flat or have a small amount of pitch, allowing snow to accumulate.
Sitting in the way of the wind, allowing snow to pile up in larger drifts in certain parts of the roof.
Missing their collar ties, which are supports that connect the rafters. Owners sometimes remove these to allow for more space in the attic, but they are essential for proper and safe roof functioning.
Built by amateurs without a sense of engineering the roof for snow loads. For example, you might have a roof that is struggling to support the snow on a carport that you installed yourself.
If the rafters are making a lot of cracking and popping noises or if they are bending, this is a sign that your roof could be ready to fail due to the snow load. Another sign is that your home shifts and that doors and windows become hard to close.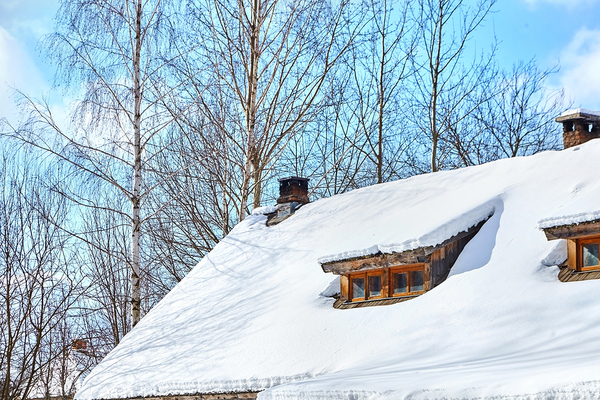 Ice Dams Accumulate
In addition to the snow load on your home, there's also the issue of ice dams. Ice dams occur when snow hits the roof and turns to water because of the warmth of the roof. This water slides down into the gutters, which are not warm. In gutters, the water freezes, and future water backs up behind this layer of ice. That water can move underneath the home's shingles and lead to damage to both the roof and the attic. If you notice that the abundant snow on your roof is melting and turning into long icicles at the end of the roof, you might have too much of a backlog of snow. In this case, you can try to remove or melt the snow from your roof. You can also proactively install heating in your gutters. This helps keep snowmelt on your roof moving through the gutters and into the downspout. It helps your roof get rid of the melted snow that can be dangerous to your roof and your attic.
At Harry Helmet, we can help you make sure that your home is ready for the winter.  Contact us to learn about gutter heating, roofing, and ice dam removal. We're your roof and gutter installation experts, and we've worked with homeowners across the country to ensure that their roofs are ready for winter.  Schedule a free estimate today.