Which Gutters Are Best for Heavy Rainfall?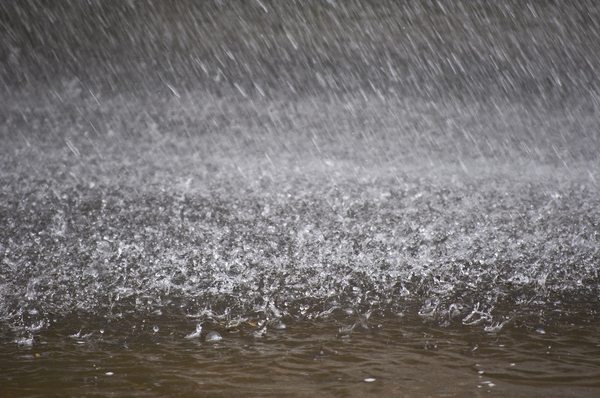 It's raining, and it's raining some more. If the area where you live receives a lot of heavy rainfall, you may need to take a close look at your gutters. What do you need to do to make sure that your gutters don't overflow during heavy rain? Getting the right gutter guards, downspouts, and gutters for heavy rainfall can make all of the difference.
What Is Heavy Rainfall?
How much rain is heavy rain? In certain parts of the country, it rains a lot. According to the US Geological Survey, heavy rain occurs when rainfall "greater than 4 mm per hour" falls in your area. Heavy rainfall is not even the top category for rainfall; your rain could even be greater than 50 mm per hour. That's called a "violent shower."
The Implications of Heavy Rainfall
What happens when it rains heavily on your home? For one thing, the areas around your home might flood, whether this is your yard or a local river.
However, even if the rainfall close to your home is less severe, your home can experience consequences if you don't have a drainage system that's well-sized for the job. If your downspouts or gutters are the wrong sizes, water will spill over the edges and run down your siding to your foundation, where it can cause the soil to shift. Shifting soil around the foundation will ultimately lead to concerns about cracks in the foundation. Your landscaping also suffers if you have water that consistently falls from your home to the ground.
What Gutters Are Best for Heavy Rainfall?
There are a few aspects to consider when thinking about what gutters to choose.
The amount of rain that you receive in a short time is key. It's all right if it rains consistently but at a slow pace. However, if your area experiences sudden downpours, that's when your gutters could overflow. One element to consider is the size of your gutter. Many homes have 5-inch gutters. If you get a lot of rain all at once, you may need 6-inch, 7-inch, or even larger gutters.
You also need to think about the pitch of your roof when you ask for an estimate. A roof with a steep pitch will send water shooting down the roof into your gutters. This means that even if there is not a lot of rainfall, your gutters could have problems. Consider this as you plan for the size of your gutters.
Additional Protection Against Water Damage
Protecting your home against gutter problems isn't only about choosing the right size of gutter. It's also about choosing the right products to go with your gutter. As you meet with your gutter company, ask them:
How many downspouts will you put in, and where will they be located? This will help move water down to the ground.
Do you install gutter covers? Adding the right gutter cover to your gutters can prevent them from becoming clogged. This, in turn, prevents them from overflowing onto the ground.
The Family Handyman suggests that you "add a splash guard at the bottom of roof valleys to prevent gutter overflows during heavy rainstorms." What other tricks does your installer suggest to prevent gutters from overflowing?
What is your warranty? Just in case something goes wrong with the installation, make sure that you have protection against gutter leaks.
At Lednor Home Solutions, we've spent decades working with families like yours on homes like yours. If you're curious about what gutter size, gutter guard, or downspout size is suitable for your home, connect with us today. We'll help you discover how to protect your home from water damage using the right gutters for heavy rainfall.  Schedule a free estimate today.